---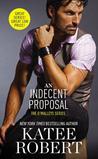 An Indecent Proposal
by
Katee Robert
My rating:
4 of 5 stars
Reviewed by: Michelle
ARC provided by publisher in exchange for an honest review


A sexy symphony of danger, chicanery, loss, raw emotions, and a mafia romance like no other!!!! Katee Robert has once again hypnotized readers as she beautifully and masterfully delivered a story that is a modern version of The Godfather and Goodfellas. Of course, this book stands out on it's own as Katee Robert didn't forget to put her own signature mafia twist.

In this third installment to The O'Malleys Series , Katee Robert focuses on Cillian O'Malley. Cillian was the brother that intrigued me from the start and I couldn't wait to read his story in An Indecent Proposal. Cillian took his brother's death the hardest and soon he found comfort in alcohol, violence, and women. When his life began to spiral out of control, Cillian took it upon himself to reinvent and change his former ways.

Violence. Duplicity. Greed. Death. Olivia Rashidi has become very familiar with those things as she has lived majority of her life surrounded by this lifestyle. As the daughter of a Russian mob, Olivia decides to leave that part of her life behind so her daughter can live a normal life. And so when she meet Cillian O'Malley, Olivia has every right to be nervous and wary of him. She is very familiar with the surname O'Malley and their association to the Irish Mafia.

As much as Olivia should know to stay away, she is drawn to Cillian in such a visceral manner that didn't need much explanation. The raw vulnerable sides that both Olivia and Cillian had were tastefully exposed and stripped in such a captivating way that readers like myself could feel that unspoken bond that they shared. And in true mafia romance, danger begins to threaten the safety and bubble of Olivia and Cillian as a war of power struggle in Boston begins to emerge when Olivia's half brother enters the picture. As the imminent danger begins to loom, how far will Cillian go to protect Olivia and her daughter?

An Indecent Proposal was a sexy, riveting, and emotionally gripping mafia romance that was beautifully well-written. Katee Robert added depth, humanity, grit, and violence in such a profound way highlighting the inner turmoil and battle that Cillian and Olivia has to endure. Within the backdrops of power struggle, violence, and the mafia, Katee Robert wrote an amazing love story that was unmistakably tangible and palpable right from the opening pages. This third installment is hands down my favorite of the series and so if you are looking for an emotive, action-packed, and sexy romance then I highly recommend you read this book and series NOW!!!