---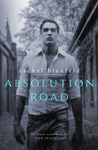 Absolution Road
by
Rachel Blaufeld
My rating:
5 of 5 stars
Reviewed by: Michelle
Copy provided by author in exchange for an honest review


"With this girl, I wanted something I'd never wanted before. To be a better man. For her. For me."

Absolution Road by Rachel Blaufeld was an emotional, poignant, touching and inspirational story on love, hope, and second chances. Ms. Blaufeld spellbinds her readers as she chronicles a man living in his own purgatory while weaving and exposing the raw human emotions of pain, guilt, loss, sadness, love, and trust.




I did not read the first book Redemption Lane so I went in totally blind as to what I was getting myself into as I read Jake Wrigley's story. Luckily for me, this book can be read as standalone but trust me after reading Absolution Road, this made me want to get to know Jake's twin, Lane. In Absolution Road, we are introduced to Jake Wrigley, a broken man who suffers with his own inner demons and guilt. His parents death impacted Jake in such a way that he feels responsible for their death. When Jake lands himself in jail after getting in an altercation, he meets his public defender Aly Road. Aly informs Jake that he is free to go since the other guy is not going to press charges. In that one fated meeting, there was something about Aly that intrigued Jake like she was meant to save him. Fast forward to a couple months later, Aly sees Jake again and this time he makes it his mission to integrate himself into her life. As Jake spends more time with her, he sees this beautiful, strong independent woman who is struggling financially but is too stubborn to ask for help. In wanting to help her, he does these small and big gestures that surely will have any woman swooning.

"...I was meant for you, Aly, for however long you'll let me stay. So, let me in."




As Aly begins to let Jake into her life, he begins to worry that she be running in another direction once she learns of his past. When Jake finally tells her of his secret, it does not scare Aly but instead allows her to see that the broken man she is falling for needs her love to save him from drowning in his guilt, pain, and loss. Slowly without realizing it, Jake begins to see the light and hope that shines with Aly by his side. A once broken heart begins to heal and get pieced back together. And as for Aly, she slowly begins to let Jake into her life. With very few friends, Jake awakens and ignites this intense and burning passion in Aly. A new spark of hope begins to awaken them both. No longer in the dark their love awaken the possibility that their hope and lives can change. As they begin their relationship, will Jake's guilt keep him from truly moving forward on this new road of love and healing? Or will the road to happily ever after veer off course when darkness begins to cast its shadows on Aly and Jake?




The story of Aly and Jake will awaken all the FEELS! Absolution Road was heartbreakingly beautiful and touching. Ms. Blaufeld truly captured everything from every action, vulnerability, dialogue, and raw emotions. All the feels were tangible and palpable as it courses through every page. Aly and Jake's story is one of those fated love tales that speaks volumes of unconditional love and healing. I honestly don't want to say much since there is a big unexpected shocking twist of events. But I will say that Absolution Road is a book that needs to be experienced and savored. It is a journey where Ms. Blaufeld will reminds us all that love is an unconditional commitment to an imperfect person. To love somebody isn't just a strong feeling but it's a decision and promise that you will love everything about your significant other...flaws and all. So if you are looking for a book that speaks so many volumes on love, hope and second chances then I highly recommend you to read Absolution Road. Be prepared to get lost in Aly and Jake's story that will remind us all to not let our fears and past hold us a prisoner. Let hope and love set us free.



Rachel Blaufeld
View all my reviews