Alyssa's Redemption
Karly Morgan
☆☆☆☆
GIFTED BY AUTHOR IN EXCHANGED FOR AN HONEST REVIEW
I laughed, cried and wanted to throw my device. The twist and turns were crazy.
Alyssa struggles with her past. She ran away from her ex-boyfriend Eric but obviously wasn't far enough. She was cheated on, he got her pregnant and beat her to the point where it caused her to have a miscarriage. She has trouble sleeping because of her past. It just keeps haunting her, he pops in her head like he's actually sitting right next to her every time it occurs. It's sad how she lost her baby...being beaten while pregant and getting hit in the stomach was horrible, I wanted to throw my device at Eric. She lives from paycheck to paycheck, so, oboviously she is on a budget. I felt bad for her when she had to run with her high heels on to get to work on time, since she can't afford to take the bus or get a cab and by the time she got to work her feet were killing her. She's a waitress at a place that ends up being bought by her ex-boyfriends brother, which was a total surprise.
Cam the older brother of Eric, was neglected by his parents. All he wanted to do was protect his mother, but it ended being him as the bad one. It was a surprised to see Alyssa is working at a bar as a waitress. Cam had no idea what happened between her and his brother Eric. Seeing men hitting or disrespecting women doesn't fly with him. He can go caveman for me anytime. My knight and shining armor Cam.
"Please get this piece of shit out of my bar and when he wakes up, tell him his ass is fired and never to return here."
I love how Cam was there for Alyssa. He believed her story about Eric. Since no one believed her about the bad things that happened to her in the past, it was unimaginable that out of all people, Cam would be the first to know she is telling the truth. She is scared to get involved with anyone due to her past, she fights the attraction she feels for Cam. He also feels the same way about her. So, their relationship was a push and pull kind.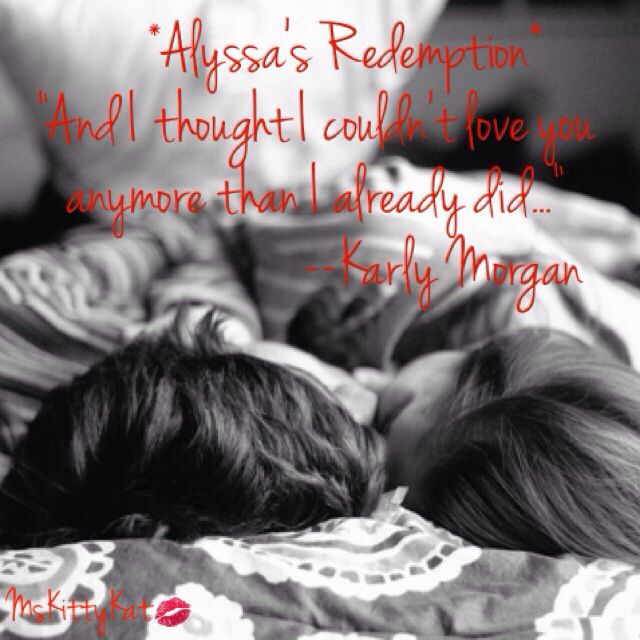 This story is about a person being abused, heartbreak and being neglected from the family. I hate it when someone lays a hand on someone, it's just not me. Being abused / beaten while pregnant is a horrible thing to experience. Taking a chance at love the second time is risking a lot but knowing that it came with a lot of obstacles, shouldn't stop you from living. I am looking forward to reading more of Karly Morgan's writing.
---