---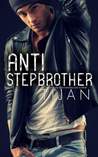 Anti-Stepbrother
by
Tijan
My rating:
5 of 5 stars
Reviewed by:
Neilliza
**ARC provided by Tour Host, in exchange for an honest review**
Anti-Stepbrother started out, what could have been a stepbrother romance and turned into something completely different. I was hooked from the very first page and was buried deep in the story once I met Caden. The mysterious alpha male with a heart, who helped Summer become the woman that she was truly meant to be. Summer was an awkward girl, who didn't have much, until she met her new friends Avery and Caden. They helped Summer come out of her shell. The more she opened herself up to people, the more fun and feisty she became. I enjoyed her journey into becoming a woman from being around the greatest people she ever had in her life. I enjoyed every minute of reading this book, love love Caden.




When Summer first met Caden, he came off as a real *sshole…but he was not at all. He was a guy every girl wanted, but only gave his time to the people who mattered. He wasn't a manwhore, a flirt, or an *sshole at all. He was a nice guy, who loved his family and the man who became Summer's world. He wasn't anything close to what she thought he was. He was sweet, attentive and the best friends she had ever had. She tried to keep her feelings for him away, because he made it clear that they were only friends. With all their friendly dates together, she fell more and more for him the more time they spent together. But where does that lead them? Read and find out. Believe me, you guys will fall in love with Caden.

This is my second Tijan book and I love her more and more. I don't know why I waited so long to read her books, but I'm glad I found her now. I can't wait to read what she writes next, I'm hoping and crossing my fingers for a story about Stepbrother Kevin. I can see his story in my head, he is such a broken man, I'm sure his story would be so good and emotional.


View all my reviews
---
Anti-Stepbrother
by
Tijan
My rating:
5 of 5 stars
Reviewed by:
Kathleen
5-STARS
*ARC provided by the author in exchanged for an honest review*
Anti Stepbrother It's a story about step-siblings who realizes that they are wrong for each other. Kevin and Summer will get a wake-up call since Summer thought the attraction she felt for Kevin was real, well she soon she finds out that it wasn't even mutual. What happened between them when she was in her drunken stupor is the biggest mistake she has ever done in her life. For Kevin, he's known to have a revolving door when it comes to women. He has a girlfriend for six months and after that here comes the new one for the same amount of time he wants them. And what happened that shouldn't have happened to him and Summer was to just scratch his itch. But for Summer, she may have thought that it was something special.


As the time passes, Summer meets Caden who becomes her knight and shining armor. She and Caden start spending so much time together that they start to develop an attraction for each other. Caden may think that it's all just LUST they're both experiencing, but for summer, she thinks it's so much more. Summer struggles to forget about Kevin, she's become obsessed with him, but with Caden in the picture, it changes her perspective.
The story may seem like a love triangle, but it's not really. I highly recommend you read Anti Stepbrother. It's not one to be missed.

View all my reviews