---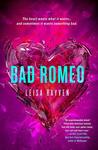 Bad Romeo
by
Leisa Rayven
My rating:
5 of 5 stars
Reviewed by:
Michelle
ARC provided by publishers in exchange of honest review
While performing the greatest love story of all time, they discovered one of their own...


Love is just a word, what truly matters is the connection and meaning that the word entails. In Bad Romeo by Leisa Rayven, love, chemistry, connections and second chances are the main aspects of the storyline. Each theme is interwoven intricately and delicately to produce a gripping, emotional, unique and captivating read. In Romeo and Juliet by William Shakespeare, Romeo said to Juliet: "When I saw you I fell in love, and you smiled because you knew." And so begins the tale where Leisa Rayven takes her readers on the journey of Ethan Holt and Cassie Taylor. From the first glance, touch, and kiss, be prepared to fall in love with their tale through the ups and down.




Cassie Taylor is a young naive 18 year old girl from a small town in Washington who has big dreams of becoming a broadway actress. In theatre, she found her solace and passion. It was her calling. So when she meets, Ethan Holt, there was an instant attraction and draw she had with him. The mysterious and hot/cold vibe that Ethan gives her only confuses her because she can't help the fact that she likes him. She wants to be his friend and possibly more than friend.

Ethan Holt is this mysterious young man, who clearly set his goals on acting. There is nothing more than he wants to do in life but act because on stage this is where he feels alive. When Ethan and Cassie are constantly thrown together, a friendship begins. But this friendship is hard to put a label on it because Ethan clearly cares for her, but he keeps her at a distance because he feels that he's not good enough for her. As much as he tried to keep his distance, the lines of friendship gets blurred when they cross that invisible line. The invisible line where friendship and romance begins. And as Cassie and Ethan begins this new stage in their relationship, there is still the main factor of Ethan being scared of this new feeling and emotions he has for Cassie.




The chemistry of Cassie and Ethan is all laid out in the book. There was no denying the bonds that connected them but what if the fear of the love was too much to handle for one. And this happens to be the case for Ethan. In this book, it goes back in forth with the past and present as it retraces the step to where Ethan and Cassie are six years later in their life. Can you forgive the man who broke your heart? Or is the heart shattered beyond repair?




Bad Romeo by Leisa Rayven was one of those books that can't be overlooked and must be read. It's a love story that transcends and makes you reevaluate on the importance of second chances, forgiveness, acceptance, friendship, family, life, and love. Bad Romeo is a book to be experience with its brilliant storytelling, fantastic writing and raw characters. The emotional and vulnerability of the hero and heroine is truly the driving force behind the magnetic pull of this book. Ms. Rayven will allow her reads to see that there are some connections that can't be broken. The threads that holds these strong bonds may have been frayed along the edges but the thread is still intact. No matter what, you can't stop destiny, fate or what not when it comes two people who are meant to be. The beauty of Bad Romeo is that it reminds us all the beauty in life is the gift of a second chance. And what's great about it, is that second chances sometimes works out even better than the first because you learn from your mistakes. So will Cassie be able to give Ethan a second chance? Third chance? I guess I will have to wait and find out in Broken Juliet.




So if you are looking for a book that takes a new approach on modern day romance of loving, forgiving, and moving on then look no further and go read Bad Romeo by Leisa Rayen. Prepare your heart to swoon, break and at the same time go pitter patter as Ethan and Cassie will take you down on their emotional roller coaster of rediscovering a romance like no other. The story of Romeo and Juliet can be considered one of the greatest love story or one of the most tragic. So will Ethan and Cassie have the same fate or will they rewrite history and prove that their love is eternal and nothing tragic about it.

"My bounty is as boundless as the sea, My love as deep; the more I give to thee, The more I have for both are infinite." ~William Shakespeare

Leisa Rayven
**Review also posted on Four Chicks Flipping Pages**


View all my reviews
---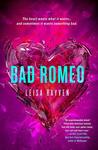 Bad Romeo
by
Leisa Rayven
My rating:
5 of 5 stars
Reviewed by:
KATHLEEN
*Copy provided by the publisher in exchange for an honest review*
★☆✮✯★5-Fluffing Stars★☆✮✯★


This was one of those books where as soon as you dive into it from the first page, you just want to get to the bottom of the story. Every page I turned it made me anxious, had me biting my nails. I felt like I was floating on cloud nine at times, but there were times that I just wanted to pull my hair and throw my iPad. It was an emotional roller-coaster ride. I loved how it was so unique in it's own way. The story line will suck you in and will take you into another realm, like you're all alone and no one else exist but Cassie and Ethan's story. It's one of those books that will have you thinking for a while after reading it. The push and pull between the two had me banging my head on the wall. I just wanted to knock some sense into them.




It's a story about a second chance at love. No matter how much you deny the attraction and knowing that deep down it's more than what it seems. You can only hold in the feelings for so long and it's up to you to either pursue it and just have the regrets chasing you for life and saying "WHAT IF'S". It's not something I would do, but Ethan thought it was the best for him and Cassie.




To leave and come back when he is ready. But how long can you wait for the love of your life to make up his mind and show the affection you truly deserve? And deciding what they were both going to do about the love they both feel for each, just drove me insane with the choices they made. How can you love someone so much and just shatters you to bits and pieces like no other. And come back to your life like nothing hurtful happened. Cassie thought that she was the only one hurting, but it was more for Ethan since he was the one who had to walk away.




After three years of being apart, they come back to playing another show. I love the sparks between Cassie and Ethan. It could never be replaced by someone else. The are both it for each other BUT are they willing to give this another chance to move forward and start over? I was truly enamored with BAD ROMEO, and I can't wait to be to be captivated in FINDING JULIET. This officially is on my top 2014 favorite.

View all my reviews
---
RATING: 5+ Stars.
Reviewed by:
MOLLY
This book was unexpected, in a very good way. I went in to this one almost blind, and I'm glad I knew practically nothing in advance.

Bad Romeo is told in two separate time frames; present time and flashbacks of 6 years prior. Cassie and Ethan meet as students trying to get in to acting school. This is a story about one girls outward infatuation with a boy, and a boys' reluctance to drag the innocent girl into his angry life.

Present day Cassie is a lonely chick with a bitter attitude and a shattered heart. A far cry from the refreshingly witty and goofy girl she used to be.

Present day Ethan is a charming, understanding and charismatic man. A far cry from the bitter, closed off and angry young man he used to be.

From the start, these two have an undeniable chemistry. The sexual tension is bouncing off the pages, these were some of the most intense scenes I've read.

Both time lines lead up to some hefty revelations and broken hearts. Please note: this book is not a standalone...BUT, it's not the typical cliffhanger. That being said, I'm soooo ready for the next book!

To say I loved it would be a vast understatement. This is one of my top 10 reads of the year. Please read this book.