---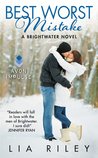 Best Worst Mistake
by
Lia Riley
My rating:
5 of 5 stars
Reviewed by: Michelle
ARC provided by publisher in exchange for an honest review


There is something about small town romance that I always finding charming, sweet, and touching. And in Lia Riley's third installment to The Brightwater Series, Ms. Riley enchants her readers to a fairy-tale love story with a modern twist to the beloved classic, Beauty and the Beast.




Wilder Kane is your grumpy alpha hero who had to leave his career behind after a tragic accident. Now back home in his hometown of Brightwater, California, Wilder is not exactly your friendly neighbor that is until he meets Quinn Higbsy. Slowly, our sweet heroine was able to draw out this stubborn man back into society. Slowly, the walls that have surrounded Wilder Kane soon begins to crumble when he allows Quinn into his life. Can Quinn show this perfectly imperfect man that he is not broken at all?

I adored this sweet, charming and touching small town romance book. The Best Worst Mistake is my favorite of the series. I have always been drawn to flawed broken heroes and Lia Riley did an amazing job showcasing that behind all the facade, Wilder Kane is a good, honest, and beautiful man. So if you are looking for a book that is a great reminder that true love is about loving and accepting all your imperfections then the Best Worst Mistake is the book for you. Also, sometimes the best worst mistakes make the best kind of stories so be prepared to fall in love with Quinn as she tames her own beast, Wilder.


View all my reviews
---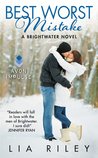 Best Worst Mistake
by
Lia Riley
My rating:
4 of 5 stars
Reviewed by:
Neilliza
**ARC provided by author, in return for an honest review.**



Best Worst Mistake is a small town love story where grumpy meets sassy. A sexy, charming and adorable, love story.

Wilder used to be a smoke jumper, the once who puts out the most dangerous fires. But when a tragic accident, took something away from him, he closed himself off from the world. He kept himself hidden and never given anyone a time or day. Not until he met Quinn. Quinn is smart, sassy, fun loving and a big book lover. Wilder is one grumpy guy, but the more time he spent with Quinn, the walls, he build were breaking down no matter how much he tried to stop it. Quinn made him feels things he never thought he wanted ever again, he wanted a future with love and Quinn might just be the one to give it to him. Wilder is an alpha male that loves control, but with Quinn he is different. Quinn never like giving anyone control, but with Wilder, she is more than willing to give up any control she has. Together they kept each other balance. While Wilder tries to push Quinn away, Quinn fought harder to let him see that she don't scare easily. But when the time came that Quinn tried to push Wilder away, Wilder fought much harder to keep them together.

Wilder and Quinn are surely sexy and full of love. I can't help but love this modern day twist of Beauty and the Beast.


View all my reviews