---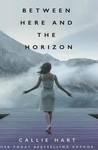 Between Here and the Horizon
by
Callie Hart
My rating:
4 of 5 stars
Reviewed by: Michelle
ARC provided by author in exchange for an honest review


Between Here and the Horizon by Callie Hart is a sexy complicated love story that is interlaced with passion, second chances, and mystery. This is one of those stories where you are taken down the proverbial rabbit hole where you must read and experience every tidbit, raw emotions, and action taking place in order to understand the depth and motivations of each of the characters.




I cannot fully review this book without giving away spoilers but I will just say that Callie Hart has masterfully written a story that packs the emotional punch, suspense and romance to keep readers like myself entertained. I urge readers to go read this book BLIND with no expectation and in such you will understand the magnetic pull of why this story was bewitching. Right off the opening pages, your heart will belong to Ophelia Lang and the two kids that she has been entrusted to take care of. I love stories that portrays a strong heroine and Callie Hart truly captured that aspect when she wrote Ophelia. The writing was spellbinding. The characters were intriguing. And the story was shocking and yet beautiful. So if you are looking for a story that has angst, drama, raw emotions and mystery interwoven into a love story then this book is definitely for you.