Bittersweet Revenge
by
J.L. Beck
My rating:
4 of 5 stars
Reviewed by:
Michelle
☆☆☆☆ 4 Bittersweet Stars ☆☆☆☆
SLUT! WHORE! These are words no teen girl wants to be heard or said about her. Words that can be so damaging and hurtful. For Jenna Haines, these malicious words have haunted her for since junior year of highschool when rumors begins circling that she slept with endless amount of boys. But in Jenna's case, these rumors are far from the truth. Rumors that began from a boy that Jenna thought she knew and cared for. So in her senior year of high school, Corey tries to make Jenna's life a living hell leaving her the social outcast and labeled as the town slut. So how far will Corey take to ruin Jenna's life and push her to the edge? How much humiliation can she take before she stands up on her own? What are the motives for Corey turning his back on Jenna?
Bittersweet Revenge is a quick read that address a strong social issue of bullying. There is nothing light, fun, or nice way to portray it. Bullying...it is simple evil and cruel. And no one should be a victim to bullying whether it be through acts of violence or words. In this book, Ms. Beck showcases the raw and vulnerable state of a heroine trying to find her voice and standing up for herself. Reasons for why her bully does what he does are explained but it does not justify for the bullying and harassment. As secrets are exposed, another bombshell is dropped on Jenna and so I look forward to reading Bittersweet Love and see where this new revelation takes her.
Back to Top of Page
Bittersweet Revenge
by
J.L. Beck
My rating:
4 of 5 stars
Reviewed by:
Neilliza
☆☆☆☆☆ 4☆☆☆☆☆
This is a short story about a girl finding herself after being continually bullied and harassed by her ex-boyfriend and his friends.
In her senior year in high school, Jenna have to find strength to get through another year of being bullied. Another year before she can leave everything behind and start fresh in college. School is hard being the heart of so many rumors, that's making her life hell. What makes everything livable is having a best friend like Mimi. Mimi is great, she is the best of friend anyone would be lucky to have.
Jenna though she was fine with her life, knowing that she has to go through another year of this sad high school life. She knew she had to endure it all, just to get through another year. Until she met "denim clad" boy Rex.
Rex is hot as sin, as Jenna and Mimi described. He has the brightest prettiest blue eyes and he could be up to no good. After finding out that Rex is Cory's cousin, she turned her head the other way and put her walls ups. As soon as Rex starting hanging around her, all that changed and he started breaking down her walls. Jenna started falling for Rex and she hoped he felt the same.

Until the truth came out and Jenna ended up getting hurt.
Will she forgive Rex for what he did?
Or will she walk away from him completely knowing she could never trust him again?

I do love the way Jenna stood up for herself, when she finally found her voice. As for her mom, wow! Her mom is a piece of work. I cannot put into words what I feel about her mom, except for disgust. Her mom is really disappointing and felt back that Jenna had to put up with the likes of her.

I cannot wait to get started on the next book, Bittersweet Love. I am hoping that Rex will get a chance for redemption, he needs it and deserve it.
Bittersweet Revenge
by
J.L. Beck
My rating:
4 of 5 stars
Reviewed by:
Kathleen
Sweet Revenge
✩★✩★✩4-Revenge Stars✩★✩★✩
This is a story about a girl who became a laughing stock because of a rumor. Everyone thought she was a slut just because she didn't sleep with Corey. But if you think that is the only reason why he did what he did, well there's more to it than that.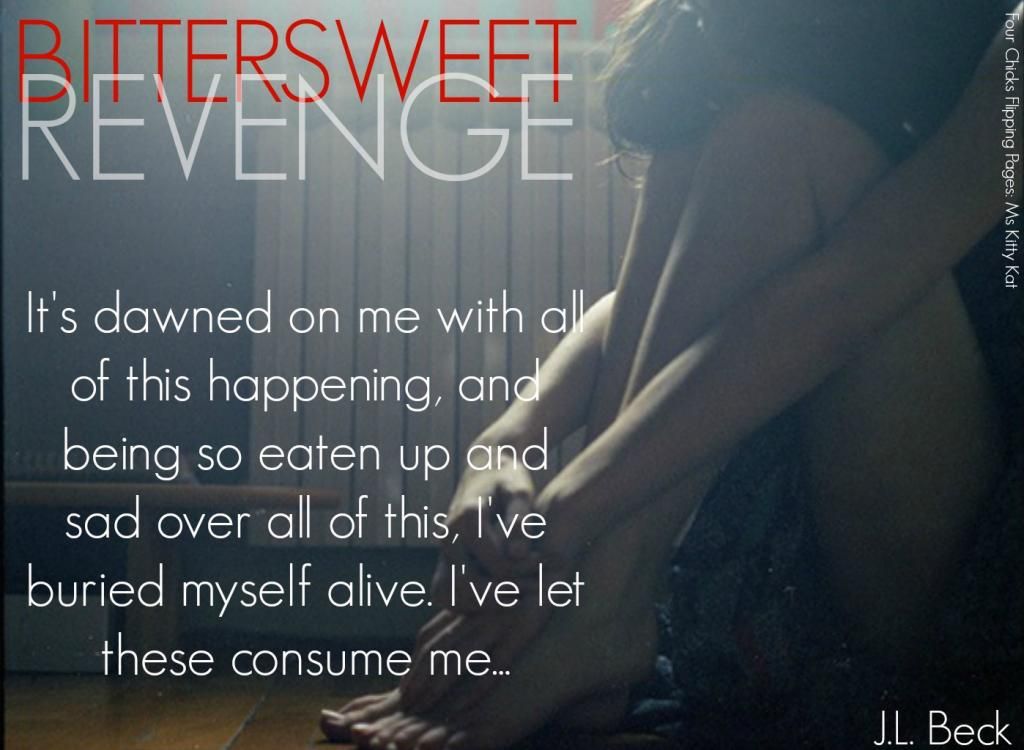 Jenna, was heartbroken by her stupid ex-boyfriend. Just because he didn't get what he wanted, he hurt her in one of the most ways possible. Not only did it happen, but to make things worse, he broke up with her in front of the entire school. She's been tormented by Corey for as long as she can remember. She thinks that there's another reason why he's doing all these hurtful things to her, she doesn't know what his reasons were but she will eventually find out.
Rex and Corey were supposed to be on a mission. They both wanted to ruin Jenna's life. All about revenge and it didn't matter to Corey if it tore Jenna apart and he even involved his cousin and sister. I hated the things they did to Jenna. Anyone who bullies people disgust me. Just to make themselves feel good about themselves, bullying is their defense mechanism.
I thought at first, there was going to be one person that Jenna could trust. I really
wanted Rex to be the guy who can put that smile on her face. I wanted her to change for the better. To be able to have a happy life, it's the only thing she wanted. As for her bestfriend, I'm not really sure how I felt about her. Kissing your bestfriend's ex-boyfriend is out of line, my opinion.
Jenna struggled everyday, to just ignore these people who are very persistent with the bullying. When secrets came out, things just got worst. It may have gotten worse, but atleast Jenna found her voice and stopped these people dead in their tracks. Will she end up getting her happily ever after or will she end up leaving all these people behind who acted like she didn't matter or exist? Well, you'll have to find out for yourself. I can't wait to read book 2.
Back to Top of Page