---
Broken Juliet
by
Leisa Rayven
My rating:
5 of 5 stars
Reviewed by:
Kathleen
✰✰✰✰✰✰6-HEARTFELT STARS✰✰✰✰✰✰
*COPY PROVIDED BY THE PUBLISHERS IN EXCHANGED FOR AN HONEST REVIEW*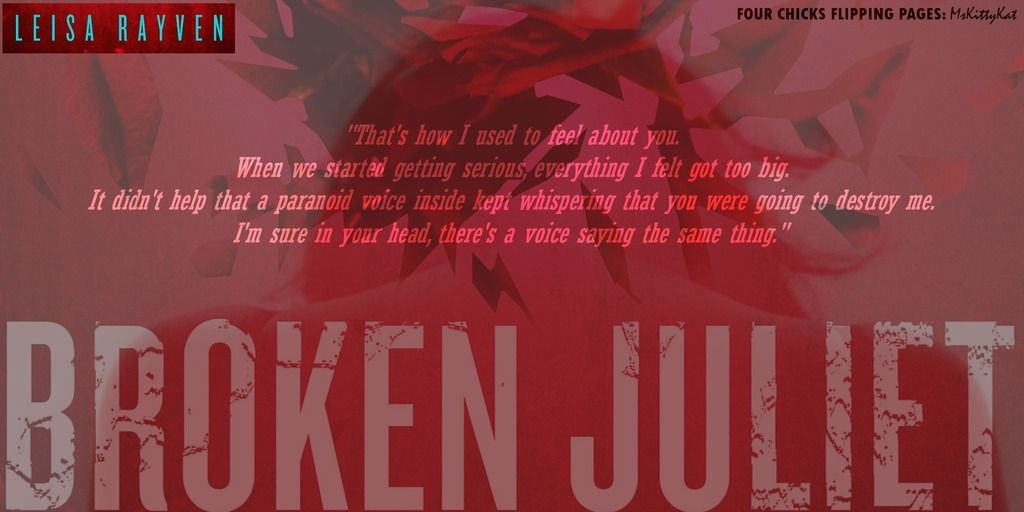 This is the conclusion to Cassie and Ethan's crazy, heartwarming, love story. I highly recommend you read this series. It will take you to another world where no one else exist, but them. The love that they both have for each other was chaotic but unforgettable.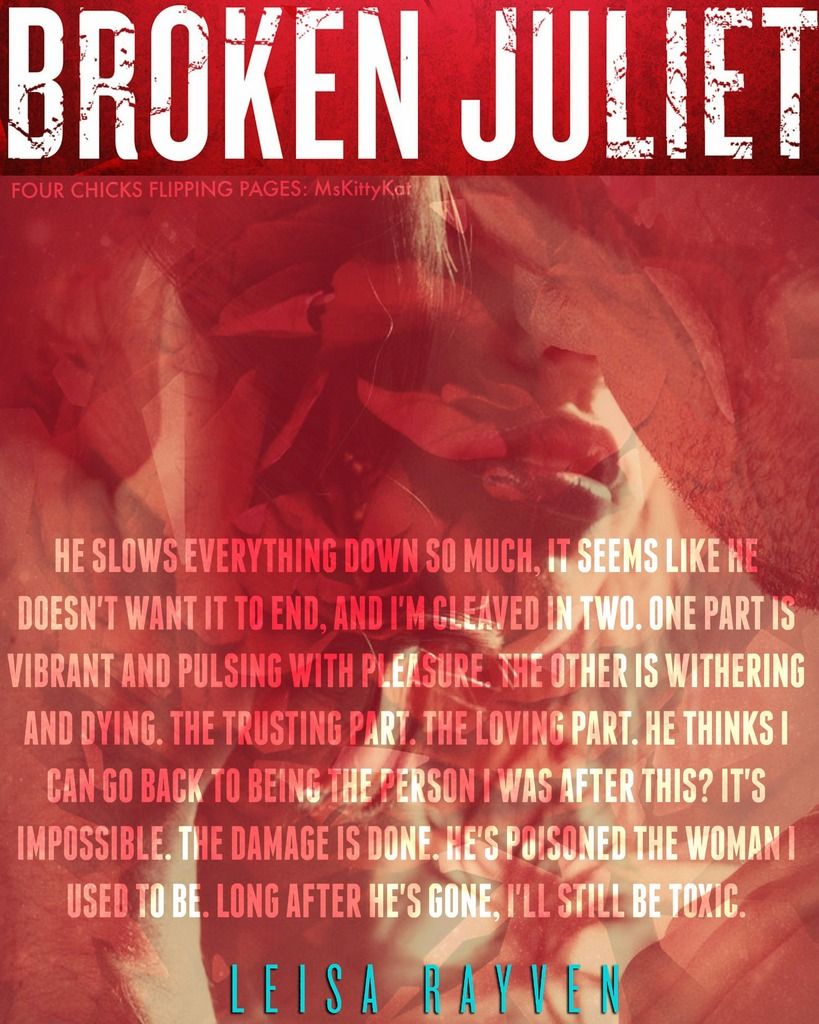 For someone who was so radiant and caring, became the troublesome and detached girl. Slept with anyone who was willing. Anyone who could fill the void over the power that she had lost from loving Ethan so much.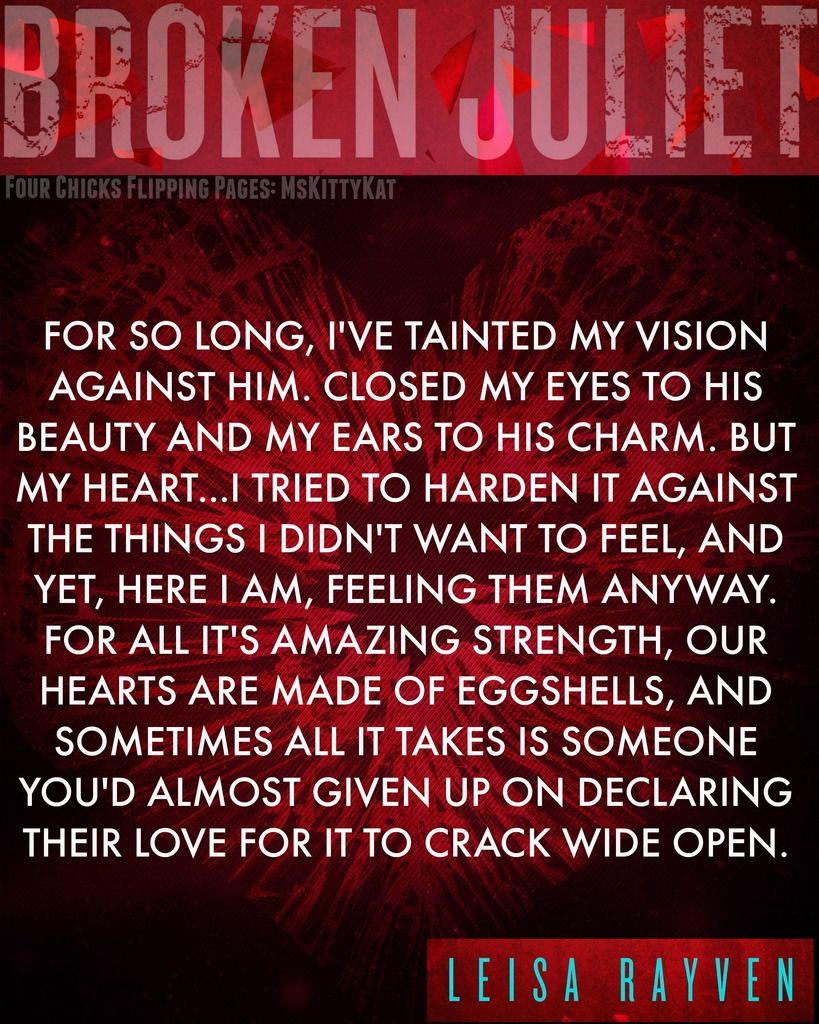 The once was a guy who consumed so much anger in him and pushed people away, turned into someone who is willing to sacrifice everything to have what he's been denying after six years. Something he could've had so easily if he'd just opened his heart. Now that he's back, he will make it his mission to take what once was his, Cassie.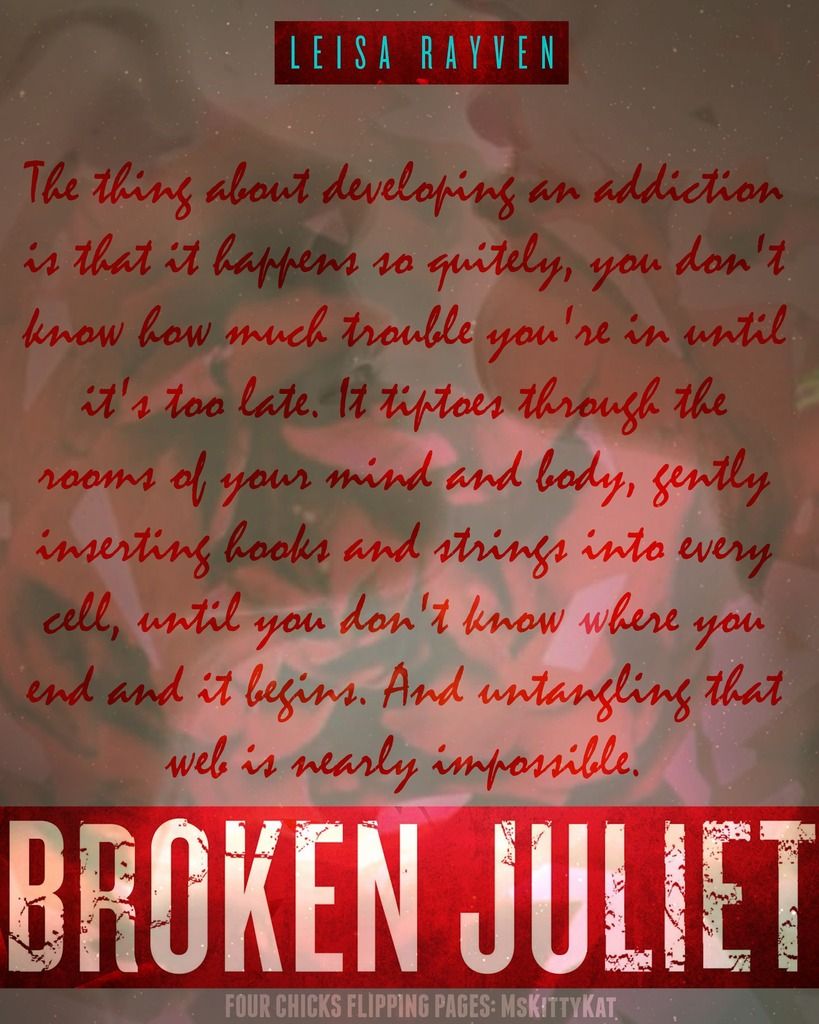 Alternating from then and now, gave Leisa's readers more insight into their love story. They're destined to be together, no matter how much Cassie tried to deny it. The ups and downs they both had to endure was unfortunate, but it was all worth it in the end.


The steamy scenes weren't too raunchy and the way the author described it was bewitching. It wasn't just sex, even though Cassie and Ethan both claimed it was on some parts of the story. Making love was what they both knew it was but never voiced it. There were moments that I felt like I was on cloud nine. Yes, it was that good. I enjoy stories that keep you guessing what is coming next and Leisa Rayven knows how to deliver a great romance. The story kept me anxiously turning the pages, and I absolutely enjoyed this book.

View all my reviews
---
Broken Juliet
by
Leisa Rayven
My rating:
5 of 5 stars
Guest Reviewer:
Jerleen
*5-Heartbreaking Stars*
*Copy provided by the publishers in exchanged for an honest review*


Broken Juliet by Leisa Rayven is the sequel to Bad Romeo, Cassie and Ethan's emotional strengths are reversed; Cassie is the brooding one, and Ethan is the fearless one. After Ethan declares his undying love with 1,162 "I LOVE YOU"s, Cassie decides to give him another chance. Ethan already broke her heart twice, so she was very reluctant to give him another try. He claims that he's a changed man, and says all the things that she has been longing to hear him say, but she keeps pushing him away, even though deep down she wants to be with him. Cassie wants him but desperately tries to protect herself, and Ethan throws himself at her with an open heart.
It is finally revealed how Ethan broke her heart in this book, and how Cassie turned into the shell of the woman she was before. Even though this book is told from Cassie's point of view, you still get to see so much of Ethan and how he transitioned from a scared emo 21-year-old into the man Cassie deserves.
The book is written in the same format as the last book, alternating from past to present. One of the strong points of this book is that Rayven transitions from past to present smoothly. If the previous chapter ended with a certain mood, then that mood is continued.
After reading Bad Romeo, I could not wait for the sequel. There was never a dull moment in this book. The tension between Cassie and Ethan is so aggravating (in a good way) that you have to know what happens next. This book is definitely a page turner!

View all my reviews
---
Guest Reviewer:
Molly
Bad Romeo. Easily my top read of 2014. Broken Juliet. My most anticipated read of 2015, and now a top favorite.

Every once in a while, a book comes along that grabs hold and doesn't let go. Whether it's an anticipated book, or a surprise diamond in the ruff, these books tend to be gems among a gamut of reused and recycled material. Broken Juliet is one of those rare and precious gems that have solidified Rayven as a master storyteller. Her approach is captivating, and I couldn't put it down.

This book picks up where Bad Romeo ended. Rayven flips seamlessly between timeframes. We're given bits and pieces in two separate points in time. One where she rips our heart wide open, the other where it's slowly stitched back together. Repeatedly. And it's flawless.

I'm usually a bit leary of reading my "most anticipated" books because I get nervous that they won't live up to my expectations. This one did not disappoint. In any way.

It's easy, in the whole romance genre, to always be on the lookout for the next book boyfriend. But with this series, I easily found my new favorite book couple. Ethan and Cassie both knew rock bottom. Separately, and together. I loved how all of their pieces stitched together make them so perfectly flawed.

By far my top read of the year. 6 stars for Broken Juliet. 6 stars for the series. This is a series not to be missed.