---
Combust
by
Tessa Teevan
My rating:
4 of 5 stars
Reviewed by:
Neilliza
*A copy given by author, in return for an honest review.*
This is the story about two virgins named Cohen and Andi finding each other in college.
Cohen and Andi were both freshman, when they met. They never like parties and just went for the sake of their friends, but when they met it felt like everything stopped and they were the only two that existed. When they started talking they both found that they love music and they connected because of it. They left the party together and got to know each other in Cohen's dorm room. They spent the night talking about music and listening to music. They had lots fun and laugh, they knew they had a connection and they got a long great. Until the desire for each other got in the way…
Once they decided to take their party to the next step after all the beer they had, things got heated. They explored each other's body and gave each other pleasure. Andy never felt anyone's tough on her spot before and Cohen being her first is something she would never forget. She did did the same for him, she said she always give pleasure back. She is a tit-for-tat kind of girl. After making Cohen feel good, but not going all the way…they started it was time. Being both a virgin they didn't know exactly what to do. Both blurted out that they were a virgin right before Cohen pump it in and that's all it took. One pump and it was over. The disappointment that Cohen felt after, letting not only her down, but himself. He felt ashamed. He promised her their next time together will be better. Before that could happen, Andi left Cohen asleep in bed thinking that it was for the best. Cohen waking up with Andi gone, made him feel lost and emotional. He must have really missed up their night with him being a one pump man.

After that night Cohen spent his free time seating for Andi, but she was nowhere to be found. What Cohen didn't know was Andi was doding him like a plague. After they finally caught up to each other at a party and once again Andi running after Cohen they had fall out. Cohen let her have it, his feelings for her and how she made him feel leaving. Andi didn't know how to handle what Cohen had said, so she let him go. In her mind, Cohen was all wrong. She didn't leave him because she didn't want him, she left because she though its as best for both of them and they didn't see each other again.

Three years later….

Both on their last year of college, Andi needed a tutor for Chemistry and someone showed up that she thought she would never see again for the rest of her life, Cohen. Cohen came walking her way, with more confident that he'd ever had and was oozing sex appeal. Both their feelings they been trying to forget for years came flooding back.

Will this be their second chance for love?
Or will Andi come running out scared again?
Read and find out.

I love that no matter how many years had past, they never got over each other. No matter how disastrous their first time together was, it was so much more tan sex with them. Yes sex is a must, but they had more than a connection. They had love, waiting to be found.


---
Combust
by
Tessa Teevan
My rating:
5 of 5 stars
Reviewed by:
Kathleen
My Rating: 5 out of 5
**ARC given by author in exchange for an honest review**
✩★✩★✩5-Cohen Stars✩★✩★✩
OMG! First encounter with Andi and Cohen was just so hot. I am sold from the beginning. It had me smiling like a teenager and blushed because Cohen totally scorching hot had boxed in Andi and started charming her.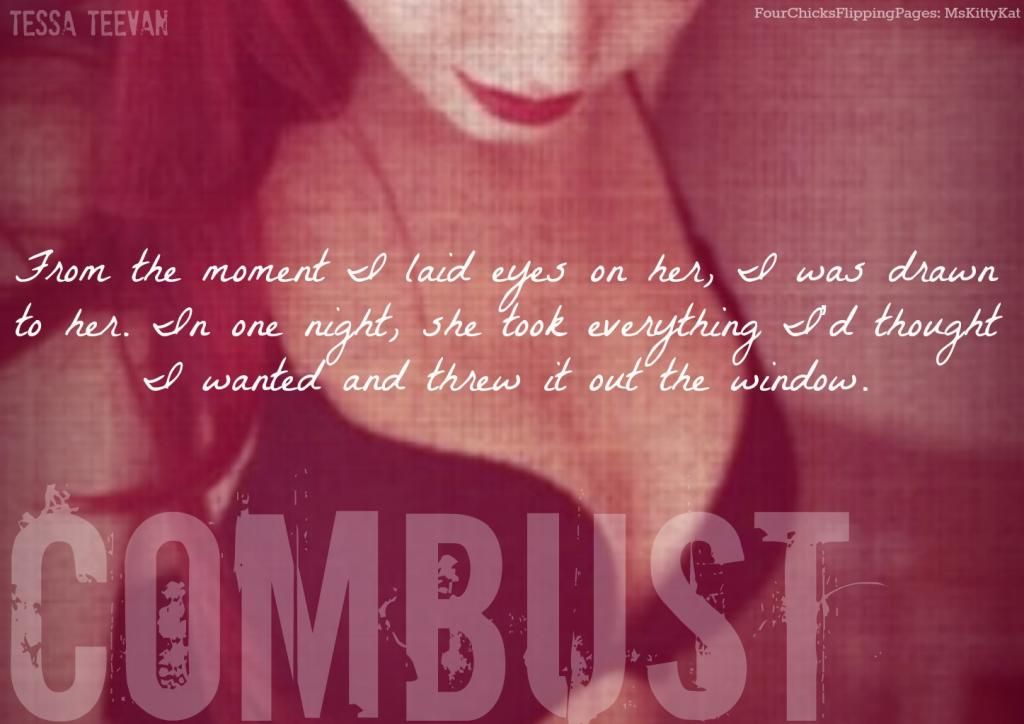 This is the type of love story that is a slow burn. It may have started fast in the beginning, but after that, everything was slow until I almost COMBUST myself. Andi and Cohen met a fraternity party after being in school for only a week. Both of them really didn't feel like going to this party, but somehow it was well worth it in the end.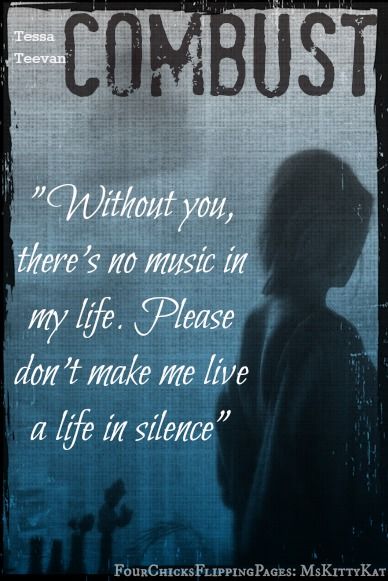 Cohen the hot pre-med who isn't into partying and sleeping round at all. He is a more serious 18 year old who is sort of old fashion in a way. All he wants to focus on is school and to be a successful doctor. I loved how he is a very responsible guy and had a good head on his shoulder. A one hot nerd, walking sex on a stick, who I'd like to have my ways with. (winks) He is inexperienced when it comes to his sex life. Somehow he just didn't have the time to waste on the partying and sex while he was working his way through college.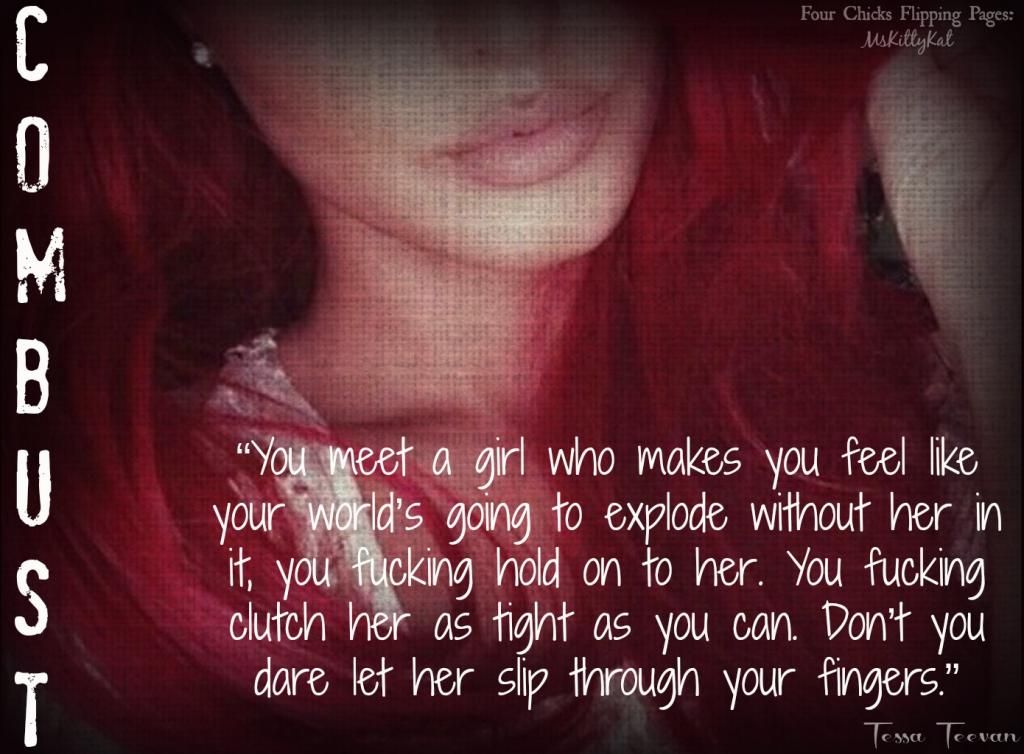 Andi who's only been at school for a week and she does not care about the partying and sex at all. But somehow her best-friend Reese convinced here to go out with one of the frat parties the night she meets Cohen. They have something in common when it comes to partying and drinking. And they also both love music. Music is one of the factors in both their lives and it's how they hit it off and it's also how Andi ended up in Cohen's dorm to say the least.(winks) Andi has finally decided that she is no longer putting the inevitable when it came to her virginity. Tired of being teased or labeled the Virgin Queen. All she wants now is to just let it happen, when it happens.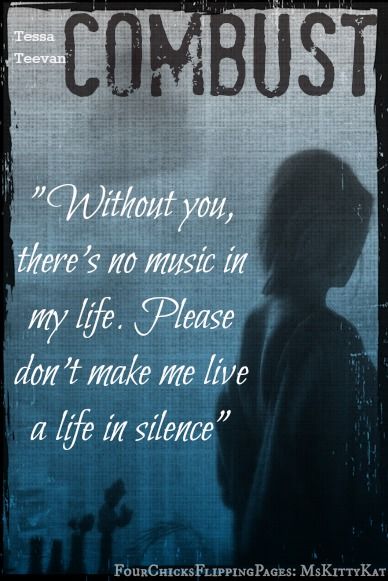 Combust is the type of read that will make you feel like you just crawled into the book and actually experiencing every situations first hand. It made me feel like I was the one having the special and unforgettable experience of my life. It made me blush like a teenager, like I was the one falling in love for the first time. I love all of Tessa's books because so far all the books I've read written by her are unique in their own way and it has it's own HEA. She never disappoints and she is the type of author who will totally suck you right in from the beginning and will leave you breathless, wanting more. Reading THE END made me smile and happy that it ended the way I wanted it to.

Back to Top of Page
---
Reviewed by:
Molly
Andi and Cohen meet in college, have a rather unforgettable first night together, then go their separate ways. Even after only one night together, these two formed a connection that will haunt them for years. Three years to be exact. During this time, both Andi and Cohen try to fill the space the other left behind. But they both had a lot of growing up to do, and growing up they sure did. When they suddenly meet back up, Cohen is no longer the unsure, befuddling, dramatic 18-year old Andi remembers. Their connection sparks.
Second chance romances are my absolute favorite. I don't know why I love them so much when the time lost between the two main characters gives me crazy anxiety but I sure enjoyed watching these two figure it out. This story was funny, witty, and downright sexy at times. I'm a huge Tessa Teevan fan and this story didn't disappoint.
I'm wavering between 4 and 4.5 stars (so, 4.25 stars?), mainly because there were a few bouts of drama that seemed unnecessary, but it didn't completely pull me away from the storyline. Ultimately, I loved Andi and Cohen. Bring on Branson next!