---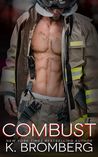 Combust
by
K. Bromberg
My rating:
5 of 5 stars
Reviewed by: Michelle
ARC provided by author in exchange for an honest review


Cue in Beyonce's song.. Ring the Alarm as K. Bromberg heats up 2018 with her latest smoking hot romance. Yes, readers will be combusting and salivating as Bromberg introduces readers to one hot and sexy firefighter hero. Honestly, I don't want to spoil the book but what I will tell you is this. IT IS A MUST READ!!!! This book was palpable, sexy, sizzling, and oh my god the FEELS!!!! Yes, prepare yourself to squirm, swoon, and smiling like a fool.