---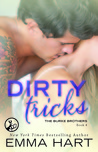 Dirty Tricks
by
Emma Hart
My rating:
5 of 5 stars
Reviewed by: Michelle
ARC provided by publisher/author in exchange for an honest review
"When the Burke boys love, they love with everything they have and are. When the Burke boys love, they love forever."

So if you are fan of the The Burke Brothers Series like myself then you would have known the last remaining single Burke brother is none other than Kye, the quiet and sweet brother. And this time, Kye Burke will show us why sweet guys can definitely get the girl. Kye may be the quiet, sweet, and nice brother but he will show readers that he has some dirty tricks up his sleeve in order to get the girl he loves.




Kye Burke knows that he can get any girl he wants. You can ask the millions of fans that he has. As one of the sexiest guitarist of Dirty B, Kye has set his sights on Chelsey Young. After one drunken night of passion and hot sex, Kye wanted to know more of Chelsey. He was addicted to her. But the problem was that Chelsey didn't want a repeat. And so, Kye does what he does best, he charms his way into her life until she finally relents to go out on a date with him.


"The only thing I have full recollection of is the fact that Kye Burke can lick pussy like a champ."

That one night with Kye Burke will forever be ingrained in Chelsey's mind. She couldn't forget the way he tasted and made her feel so alive. As much as she wanted to forget what happened between her and Kye, Chelsey couldn't and Kye makes that very difficult as he pursues her nonstop. As much she tries to deny their sexual attraction for one another, Chelsey knew getting involved with a rockstar is TROUBLE because she knew first hand what it did to her family.


"I want it all. I want all of her. I want it so fucking badly that I can feel the craving digging into me, planting its seeds and growing its roots. It lodges itself in something deeper than my heart. It buries itself into my goddamn fucking soul and begs for her."

Chelsey's father was rockstar royalty in the 80s and 90s and she saw firsthand what the rockstar lifestyle entails. She saw her father destroy her mother when he cheated on her and Chelsey didn't want any part of that and so she tried to stay away from Kye. But Kye didn't give up till Chelsey could finally see that this thing between them is something that can't go away. So will Kye show Chelsey that not all rockstars are like her father?


"I want to fucking own every part of her. She sure as shit owns every part of me. "
"Being with Kye Burke, loving him, would mean fighting for him every day. Fighting for the relationship we could have. The happiness and the laughter and the ease I feel whenever he walks into a room and smiles at me. Because that's it, isn't it? That's all it took. Him to walk in this morning and smile at me. Is that fight worth it? Is he worth it? Without a doubt."

The chemistry of Kye and Chelsey was tangible and palpable from the start. I absolutely loved Kye and his sweet personality. The man deserves a medal from all the whiplash that Chelsey had him endured with her on and off personality. I loved that Emma Hart showcase a major character growth in Chelsey as she discovers and learns that not every rocker is a cheater and most importantly to let love in. I love that Kye Burke showed Chelsey what it means to love and find a home in each other.


"It's because his kiss says a thousand things and promises each and every one of them with a ferocity words could only dream of. It's because his kiss is so fucking consuming."

Dirty Tricks was the perfect conclusion of this series. I am so happy that each of the Burke brothers finally found their special someone.Emma Hart worked her "dirty" magic as she spellbinds readers to fall in love with Conner, Tate, Aiden and Kye. The road to love may have began with a Dirty Past, Dirty Secret, Dirty Lies and Dirty Tricks but in the end there is nothing dirty about being loved by a Burke brother. So if you are looking for a book that perfectly weaves romance, heart, family, friendship, humor, banter, and love then I highly recommend you to read this series.


" The magic of the Burke brothers is that they are all so very easy to fall in love with. The problem with them is that you have no idea you've already hit the ground until it's too late."
Review can also be found on Four Chicks Flipping Pages: http://fourchicksflippingpages.weebly...
Emma Hart
View all my reviews