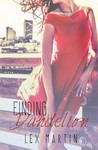 Finding Dandelion
by
Lex Martin
My rating:
5 of 5 stars
ARC provided by author in exchange of honest review
☆☆☆☆☆ 4.5 DANDELION STARS☆☆☆☆☆
Finding Dandelion by Lex Martin was simply beautiful and touching. I am blown away with Ms. Martin's storytelling. In this unforgettable and uplifting book, Ms. Martin reminds us all to LIVE, LOVE, & LAUGH. And most importantly if you are going to curse, to say it like you mean it. So Ms. Martin I just wanted to tell you Finding Dandelion was FUCKING BEAUTIFUL!!!!! Finding Dandelion will capture and tug all the heart strings. Ms. Martin will make you believe to kiss slowly, love deeply, forgive quickly, take chances, give everything, live life to the fullest, and leave no regrets.
Lets face it, there is no such thing as a perfect life. And sometimes it takes someone sick or dying to make us finally realize how short and precious life is. For Dani Hart, it took her sick mother to finally make her realize that she needs to LIVE for herself and find true happiness and love. Literally, Dani took a HIT that knocked on her ass where she comes face to face with the only man who has completely invaded her thoughts. Manwhore Jax Avery could have any woman he wants. He is sexy, confident, charming and wealthy. With flocks of rotating woman, he could have his pick but there was only woman he wanted and that was Dani. Will #ManWhoreJax be Dani's #PrinceCharming? Or will Dani find herself as another notch on his bedpost?
Lex Martin is indeed a storyteller and Finding Dandelion is another perfect example of her spellbinding ways. I literally found myself consumed and devouring this book in one sitting. I cried, laughed and swooned and was left with a big fat smile on my face after reading this book. Ms. Martin brought life to Dani, Jax, Travis, Clementine, Jenna and Ryan. These were not just fictional characters but characters that felt real. The raw emotional transformation of each of these beloved characters were felt throughout the book. What I truly love about this book was how real the storyline felt. Life is not perfect. The truth hurts. Nothing in life is full of hearts and rainbows. And sometimes life is unfair and sucks. But the beauty of life, is the promise of tomorrow. The greatest gift in life are second chances. And Finding Dandelion reminds us all that life is full of hope, love, and endless possibilities. We can either stay in the dark or we can take that chance and find light by dreaming big and letting love in. Lex Martin did an amazing job incorporating love, sadness, heartbreak, loss, happiness and second chances in Finding Dandelion. This book is one of those stories that must be experienced. It will take its readers on an emotional journey of self discovering.
What can I say but Finding Dandelion was #Beautiful #Touching and #AMustRead !!
Lex Martin
View all my reviews