BUY LINKS: KINDLE
---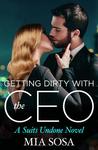 Getting Dirty with the CEO
by
Mia Sosa
My rating:
4 of 5 stars
Reviewed by: Michelle
ARC provided by publisher in exchange for an honest review


A sexy, intriguing, sophisticated romance that was right up my romance alley. Getting Dirty With The CEO by Mia Sosa is the first book that I have read from this author and it most definitely won't be my last after reading this book. Sosa sensually invites readers to instantly fall in love with her characters as she douses them with their lively and charismatic personalities and in such readers like myself gravitate towards their smart and sassy banter or in this case dirty talks.




Mimi Pennington is a smart, sassy heroine. She exudes class and professionalism. And so when she meets Daniel Vargas, he intrigues and infuriates her. He gets her all riled up in a sexual way. As these two continue to play their games of keeping score, it was only a matter of time one of them caves in. As Daniel tries to pursue Mimi, she makes it difficult for him. And so Daniel must try to show Mimi that getting dirty with the CEO is the only way to go. Will Mimi find herself getting dirty in Daniel's bed? Or will she discover that getting dirty with Daniel also means falling hard for him?

Getting Dirty With The CEO is your quintessential romance that had banter, witty characters, passion, and steam. This book also beautifully weaves a layer of sophistication as it reminds readers that love indeed makes you vulnerable. Love is about taking that chance and Mimi and Daniel were two professionals who had to see that love was worth the risk. Love doesn't mean losing your independence but real love is knowing that you have a support system. And so if you are looking for a love story, where both characters are taken on a journey of learning to let go and lean upon each other then I suggest you get dirty with Daniel Vargas.


Mia Sosa
View all my reviews