---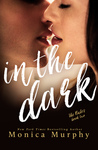 In the Dark
by
Monica Murphy
My rating:
4 of 5 stars
Reviewed by: Michelle
ARC provided by author in exchange for an honest review


This girl...she's mine. She is it for me. And she doesn't even fucking know it yet.

I absolutely adore Monica Murphy and her books. There is nothing like getting lost in her books, characters, and writing. And in her newest release, In the Dark is a prime example of how addicted I am to The Rules Series. Ms. Murphy has managed to captured the sweet, sexy, fun, and humorous side of the New Adult genre.




In The Dark was a fun, sexy, and sweet read!!! If you have read the first book, Fair Game, then we were introduced to three best friends who had one rule when it comes to women.. One night only. No repeats. Well, that rule went out the window when Shep fell in loved with Jade leaving Tristan and Gabe left. Well with only two left in the group, Gabe never thought he would be the next one willing to break the rules. And all it took was one summer in Santa Barbara to change this manwhore to reconsider maybe the rules were meant to be broken.




Gabe Walker is Mr. GQ. Well that's what his next door neighbor has labeled him when she caught him watching her. When Gabe Walker first laid eyes on Lucy, he was addicted. She was his drug and all he wanted to do was get to know who is the beauty staying next door to him at their family summer rental house. Automatically, Gabe assumed she was from a wealthy family like himself since she was staying in a gated wealthy community in Santa Barbara. But as it turns out, Lucy was just the house-sitter and she never corrected Gabe's assumption of her social status.

"I'll fuck her right now if she'll let me. I'd fuck her for the rest of her life is she said yes. Insane, outrageous thought, but true nonetheless. She has me. In the palm of her hands, she has me, holding me tight, nearly chocking me with it but I want the pain."

Lucy was the shy, innocent girl who never really focused much on boys since she was busy saving money for tuition and lived a very sheltered life. And so when she meets Gabe, she loved that he was attracted to her. Gabe made her feel special and important. So when Gabe and her decided to just keep their relationship as a summer fling, they both didn't expect to fall madly deeply in love with one another but both never expressed their feelings to one another since it was just a "fling." So when summer ended, they both went on their separate ways but as it turns out Lucy was the new transferred student. As Gabe and Lucy are reunited, their feelings for each other intensifies. So what happens when Gabe learns of Lucy's lies? Will Gabe be able to forgive Lucy for leaving him in the dark?




I absolutely loved Gabe. He was straightforward and didn't lead Lucy on. He was very upfront to her when they first met that he was not the commitment kind of guy so Lucy didn't have these high hopes and expectations when she offered her virginity to him. But what I most especially loved about Gabe was that we saw growth in his character from manwhore to boyfriend. I loved that he adored Lucy's body and made her feel comfortable in her own skin.

In The Dark was a fantastic read. It had all the elements that I loved from romance, humor, angst, and steam!!! If you are looking for a sweet and sexy college romance read then I would definitely recommend In the Dark.

**In the Dark is the second installment of The Rules Series and can be read as a standalone. But I highly recommend you to read the first book since everyone should meet and fall in love with Shep and Jade!!!**


Review can also be found on Four Chicks Flipping Pages: http://fourchicksflippingpages.weebly...
View all my reviews