---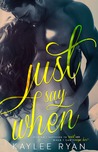 Just Say When
by
Kaylee Ryan
My rating:
4 of 5 stars
Reviewed by:
Michelle
ARC provided by author in exchange for an honest review.


I just have to say that Kaylee Ryan has me adoring her newest release Just Say When. This book was definitely one sweet tale of friends to lovers, first love, and meant to be love story that captures pure innocent love. A love between two friends who finally realized that it was time to take the biggest gamble. To finally admit that there is a special bond between them. A love that existed for years and it was a matter of time for them to finally to just say when.




Ava Evans has always been in love with her brother's best friend, Nate Garrison. For years, she always thought he only saw her as just the best friend's little sister. But when a circumstance of fate reunites these two, lines of love begins to get crossed when they finally realized that their attraction and feelings for each other is so much more. So will this new found love ruin their life-long friendship or will this relationship show that they were meant to be?

Nate was an absolute sweetheart. He was patient and the kind of boyfriend and lover that any woman would swoon for. I adored Nate and Ava's relationship because they didn't just rush into a sexual relationship but took time to explore their feelings. This relationship was built on a foundation of trust, friendship, and love.

If you are a fan of sweet romance and HEA, then Just Say When is the book for you. Ms. Ryan was able to combine an endearing tale of sweet romance. A love that blossomed through years of friendship. So if you are fan of a love story that gives you the warm fuzzy feeling then this book is the for you. This was the first book that I have read from this author and it definitely won't be my last. Kaylee Ryan


View all my reviews
---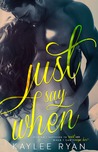 Just Say When
by
Kaylee Ryan
My rating:
5 of 5 stars
Reviewed by:
Neilliza
**Copy provided by author, in return for an honest review.***
I adore Just Say When, it is a sweet as a book can be without it being too overly sexual. I'm glad my buddy Michelle recommended I read this book. Since I am a sweet book whore, I had to. Thx Meesh.

This book is about friends turn lovers. Ava has been in love with her brother's best friends for a long as she can remember, but she knew he only saw her as her brother's little sister. What she doesn't realized is Nate have been fighting the same attraction and feelings for her, as she had for years. Both scared of what their feelings will do to Braden, they stayed away from each other.




Then the day came when Ava walked in Nate's Gym, the day that changed both their lives forever. Knowing they couldn't keep hiding from their feelings any longer, they both decided to take a leap of fate. Fate in their love for each other and fight for their future together no matter the cause.




I enjoyed this sweet romance so much, I couldn't put it down once I started. Nate was too sweet, I just couldn't help but love him. He did anything and everything for Ava, that any girl would dream of having. He basically handed his balls to Ava and let her run the relationship. He was just happy calling her his and anything else comes second. Of course I enjoyed all their, who are fun and very supportive. I hope to read more of Tanner and Zach's stories.

View all my reviews
---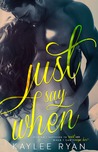 Just Say When
by
Kaylee Ryan
My rating:
5 of 5 stars
Reviewed by:
Kathleen
✰✰✰✰4.5 Sweet Stars✰✰✰✰
*Copy provided by the author in exchanged for an honest review*
Loving someone from afar couldn't get any hotter than this. It's one of those books that will have blushing like a teenager. Any fans of sweet romance with a HEA, this should be perfect for you. Unrequited love, once pursued it could only go two ways...either end up badly or a unforgettable, happily ever after.






Ava Mae, held a special place for Nate in her heart. It broke her heart to watch her brother Brody and him getting deployed. So, she wrote them the entire time these men were in the service. Every day she wrote letters after letters. Scared to death that this would be the last time she'll ever lay eyes on them. She's had a crush on Nate since they were little kids. It's what she thought she felt for him, but when she started college, she was wrong in so many ways. Falling for her brother's best friend was calling for all sorts of trouble. Saving her virginity for marriage was what she planned to do. BUT that rule went out the window when she laid eyes on Nate, after so many years of not seeing him. All she has ever wanted was to be in his life.


Nate, is an ex-marine who's always been in love with his best friend Brody's little sister, Ava. Growing up together, he was always there for Ava. Always so caring, lovable and thoughtful. He always had eyes only for her. He fought the attraction he felt for her just so he wouldn't lose the relationship he has with his best friend, Brody. Denial after denial. He didn't think that Ava had any sort of feelings for him. BUT the minute she threw her arms around him was the only declaration that he needed before being deployed. Since he retired from the service, he became a trainer for fighters and also took over his father's gym, Hardcorps.

Once the cat is out of the bag, will Ava and Nate's love be strong enough to hold on to each other forever? Will they get the chance at a happily ever after together? I enjoyed and engulfed this book in one sitting. Page after page until THE END came and it broke my heart. I wanted more... Just Say When was without a doubt, a one sweet love story . The romance was by far tamed, compare to the other books I've read. Not at all raunchy, but you still feel the sizzling hot scenes in Kaylee Ryan's way. Looking forward to reading more from this author.

REVIEW IS ALSO ON FOUR CHICKS FLIPPING PAGES
http://fourchicksflippingpages.weebly...


View all my reviews