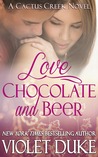 Love, Chocolate, and Beer
by
Violet Duke
My rating:
5 of 5 stars
Reviewed by: Neilliza
☆☆☆☆☆ 5 ☆☆☆☆☆
A heartwarming story of finding love when least expected.

Luke is a chocolate master who just moved his business to Cactus Creek with his friend and business partner. While trying to find a way to market their new business, his friend made a mistake and butt heads with beloved local brewmaster Dani. Instead of settling their differences at a scheduled business meeting, they ended up riling each other up even more. Business to business, maybe the best campaign will put the best business on top.
While working on their campaigns and marketing their business, Luke and Dani can't help but feel the sparks. The looks they gave each other, could drill a hole from a mile away. As fun and as serious they were with what they were trying to accomplish, they were nothing but sweet with each other. And with that panty dropping dimpled smiles that Luke keeps giving Dani, she can't help but melt every time Luke was around.

I enjoyed reading this story, my favorite part was the fun time they had in Dani's office. Wow! It was hot, without it being too dirty. I love love Luke in this story and Dani and her feisty self wasn't bad either. They were a perfect match, they always challenge each other to be the best. Love love this story.

While reading this story, I couldn't help but fall in love with their friends. Dani and Luke's friends are all so lovable that I cannot wait to read each one of their own stories. <3

View all my reviews