---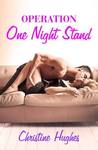 Operation: One Night Stand
by
Christine Hughes
My rating:
4 of 5 stars
Reviewed by:
Neilliza
**ARC provided by author, in return for an honest review.**
***** 4.5 Stars *****
Operation: One Night Stand was hilarious, sexy, scandalous and with a hint of sweetness.

Caroline was lost after she caught her fiancé banging the intern on their bed. She spends the next couple months crying about her sad life and eating lots of ice cream, so much that ice cream was named after her situation. When her best friend had enough of her sobby ice cream face girl, they talked her into going out and going for OPERATION: ONE NIGHT STAND. Caroline was not the kind of girl that did one night stand, she was a relationship kind of girl. But after thinking about her situation, she agreed. That night she met sexy bartender Bryan, who became her help to win a tall blonde guy's attention. Back and forth they sent each other the dirtiest cocktail, with the help of Bryan. There's Sex Up Against the Wall, Screaming Orgasm, Slippery Nipple, Wet Pu**y and more. Bryan enjoyed their exchange and by the end of the night Bryan was hoping for her attention instead of the dumb blonde, but Caroline was new at this and she became lost. Instead of staying with Bryan, she took home Ryan. Ryan, who banged her till next week, that when she woke up, she was in pain all over and even had burning sensation. After that night Carolyn became a little bit of a slut. But will she ever figure out who and what she really wants? Can she really let go the attraction she has for Bryan and the growing friendship they were building? Read and find out.




As much of a little sl*t Caroline became, I couldn't hate it. She was such a lovable character, who was just trying to find herself. Caroline and her friends are so funny with no filter. These girls talked about sex like it's a normal thing to blab out. This is such a fun book, that had be laughing and giggling. Of course falling for Brian was the best part. That sexy hunk of a man had me in the beginning. Love love this, I can't wait to read Operation Foreplay.



View all my reviews
---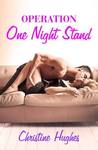 Operation: One Night Stand
by
Christine Hughes
My rating:
5 of 5 stars
Reviewed by:
Michelle
ARC provided by publisher via Netgalley in exchange for an honest review


Christine Hughes whips up a hilariously sexy entertaining read with an added splash of screaming orgasms, sex up against the wall, and perfect erection in her sizzling concoction, Operation: One Night Stand.




After practically getting drunk on Operation Foreplay, I knew without a doubt that I had to read Operation: One Night Stand stat. And let me just say, Ms. Hughes, once again has me addicted with this fun, sexy and unfiltered series that could be read as a standalone. In my review of Operation Foreplay, I stated that the leading heroine, Melody Ashford has what I called a greedy vagina. Well, in the case of Operation: One Night Stand, Caroline Frost has what I consider a hungry vagina. LOL!!! Well, I don't blame Caroline for having a hungry vagina after finding out your fiancee of five years has been banging the work intern. So, what does any newly single woman do.... well, first you wallow and eat plenty of ice cream to help mend your broken heart and then once the tears and self-pity party is done, you get coerced by your girlfriends to begin operation: one night stand. And lets, just say operation one night stand leads to feeding Caroline's very hungry vagina. HAHA!




After a banging one night stand, Caroline and her lady-bits should be happy...right?!?! Well, the only problem for this little minx is that while she was getting pile-drive to orgasmic bliss, she accidentally called out the wrong name. Instead of yelling Ryan's name in ecstasy, she ended up saying Brian, who happens to be the bartender and the guy that she couldn't stop thinking about. If things couldn't get more awkward, Brian's roommate happens to be Ryan. Luckily, for Caroline her fling with Ryan comes to an understanding when Caroline realizes which guy she wants and needs. After five years of vanilla, Caroline has finally found the person to shake, stir, and have her screaming orgasms. And lets just say, her lady-bits are finally satisfied!!!

Operation: One Night Stand was wickedly fun, sexy and laugh out loud entertaining!!!! I will say it again Ms. Hughes did another amazing job writing a smart, fresh, bold, and raw modern romance that will have you giggling and getting drunk on the crazy adventures of young single women. So if you are a fan of crazy antics, playful banters, hot bartender, banging sex on the wall, and screaming orgasms then Operation:One Night Stand is the book for you.


Christine Hughes
View all my reviews