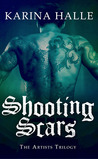 Shooting Scars
by
Karina Halle
My rating:
5 of 5 stars
Reviewed by: Michelle
☆☆☆☆☆ 5 "Shooting Scars" Stars ☆☆☆☆☆
So I decided to finally go read this book called Sins and Needles by Karina Halle. It's been sitting in my kindle for quite some time and I read so many great reviews concerning this series that I knew I wanted to check it out. And OMG..I was hooked after reading the first book. Yes, right after I devoured Sins and Needles, I dove right into reading On Every Street then had to devour Shooting Scars. And let me just tell you I am seriously addicted to Karina Halle's writing, storytelling, and this series. Personally, The Artist Trilogy has become one of my favorites book series that I have read so far.




If you thought Sins & Needles was wild and gripping, well Ms. Karina Halle took Shooting Scars up several notches.. Simply, this book was one hell of an electrifying, gripping, blood-tingling, mind-bending story that will have you craving for more Ellie and Camden. Literally, I devoured this book like my life depended on it. The story and characters were so engrossing and mesmerizing that you could not put this book down. You would have to pry my kindle off me.

Shooting Scars picks off right where it last off in Sins & Needles. Ellie sacrificed her love and happiness for Camden so he can be reunited with his family. In her selfless act, she wanted Camden's family to be safe so she willingly surrender to Javier, her ex-lover. For six years, Ellie was on the run and distanced herself from Javier but when it came to choosing in protecting Camden, she finally willingly went to Javier. But in sacrificing herself, a big hole in Ellie's heart existed. She let go on her one chance of happiness and true love. Camden will always be the one. He was home. He was safe. And he truly saw the beauty in Ellie behind the scars, secrets and past mistakes. He saw love.




When Javier takes Ellie away from Camden, a new interesting twist of events begins to take place. Reasons for Javier wanting Ellie are back begins to unfold. Secrets begins to unravels. The history of Ellie and Javier is a bond that cannot be simply understood. It is complicated with so many layers of love, secrets, and raw emotions. Both Javier and Ellie do have one thing in common which is their hate and disgust for Travis. It is what fuels them together to act and plot revenge. Through this captivating suspense, for some reason I don't hate or like Javier. A part of me feels that he does indeed love Ellie but another part of me is cautious of this love.

"All for a girl. But she wasn't just any girl. She was mine. And I was hers. Until the bitter end."

As Javier tries to set in motion of his plans for Ellie to take down Travis, Camden begins his search in trying to find Ellie. He wants Ellie back. He lost her once and so begins Camden's quest in rescuing Ellie from Javier. With the help of Ellie's friend, Gus, they both embark on a dangerous mission into Mexico. In this risky and dangerous quest, Camden's love is practically screaming at the readers. There are not enough words to describe how deep Camden's love runs for Ellie. She is tattooed on his mind, body, soul, and heart. And so begins this tantalizing, sizzling, heart pounding roller coaster ride, as Camden tries to find Ellie. Will Camden be able to rescue Ellie on time? Or will Ellie succumb to Javier's wishes? Who will win Ellie's heart?




What can I say but Karina Halle has officially became one of my favorite authors. I am in awe with her brilliant storytelling and writing. She takes her readers on one hell of a roller coaster ride full of twist and turns and unexpected surprises. She keeps her readers begging for more and yet leaves them satisfied and dangerously addicted to this series. The writing is flawless. The story line is riveting. The characters are raw. And the emotions evoked are real. So if you are looking for a heart pounding, jaw dropping, addicting, and suspenseful book, then look no further because Ms. Halle delivers it in Shooting Scars. This book was simply hypnotic. You will not want to put this book down. This series had romance, adventure, suspense, love, redemption, and second chances. It had every element that I craved in a book. This book is definitely a must read. My advice to readers is to buckle up and hold on tight to the edge of your seats because Karina Halle will take you on one action-packed suspenseful ride.