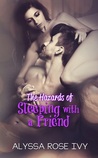 The Hazards of Sleeping with a Friend
by
Alyssa Rose Ivy
My rating:
3 of 5 stars
Reviewed by: Michelle
ARC provided by author in exchange of honest review


The Hazards of Sleeping With A Friend is a pretty straightforward standard book that was sweet, cute, funny, light, and fun romance. Two friends who clearly have feelings for each other and yet they don't cross that invisible line. Jade has a crush on Kyle, but she doesn't do relationships. And she knows if things end badly, it would ruin their friendship. Well when Kyle's mom expected him to bring "his girlfriend" to their family outing, he had to ask his friend, Jade for a favor to be his pretend girlfriend. Well, we all know that will lead to one thing...HOOKING UP!!! It was inevitable for these two to cross that line of friendship when all it took was one hot kiss. Soon Jade and Kyle finds themselves having hot sex and can't keep their hands off each other. Feelings of love soon begins to bloom. Will Jade and Kyle finally admit that they have strong feelings for each other and change their status to boyfriend/girlfriend? Or will they only stay in the friend zone?

This was my first time reading a book from Alyssa Rose Ivy and I have to say this book was what I needed. It was light, fun, sexy, and sweet. Plus, I am a big fan of friends to lover stories. For all you sweet romance addicts, this book might be the book for you.


Review can also be found on Four Chicks Flipping Pages
View all my reviews