---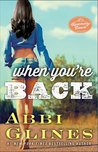 When You're Back
by
Abbi Glines
My rating:
5 of 5 stars
Reviewed by: Michelle
ARC provided by publisher in exchange of honest review


What can I say but I am a big Abbi Glines fanatic!! And in her newest installment to the Rosemary Beach Series, I couldn't wait to get my hands on When You're Back and be reunited with the sexy and sweet cowboy, Mase Colt Manning.




As always, you can always count Ms. Glines in delivering those hot sexy sweet Southern Boys to sweep you off your feet. And this time, she has her fans swooning once again for the sexy protective cowboy, Mase. When You're Back picks off where it last left off in When I'm Gone and this time, Mase and Reese must face the challenges of any new relationship. And in this book, they will have to face the challenges of trust, insecurity, jealousy and of course a lil bit of drama. An Abbi Glines book is not complete with a little angst and drama to keep you hooked. Without spoiling anything for the readers, I will just say that I loved that Ms. Glines kept the focus of the story of Mase and Reese in Texas. I loved that she was able to show the separation of the Rosemary gang and how this couple was trying to build their own life and relationship separate from their friends. As always, this book had emotions and love pouring off the pages as Mase and Reese tried to grow together as a couple. The love between them was tangible and exemplified a couple who are madly in love with each other. There is no denying it, Abbi has once again added another book boyfriend to my list.




When You're Back was a tangible, heart-tugging, touching, and beautiful book with an added touch of suspense and drama thrown into the mix. The writing and story-line was beautifully executed. One word to sum up reading an Abbi Glines book is addicting!!! Yes, addicting because I can't get enough of these beloved characters!!! I look forward to reading what Abbi Glines has in store for Captain in the next book.


Abbi Glines
View all my