---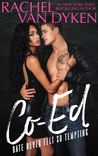 Co-Ed
by
Rachel Van Dyken
My rating:
4 of 5 stars
Reviewed by: Michelle
ARC provided by author in exchange for an honest review


Another RVD book that's a hit!!! Co-ed by Rachel Van Dyken is a spinoff of the Matchmaker series and so in this book RVD once again writes a story that engages her readers to a fun, playful and entertaining read. This book had the right amount of humor, raw emotions, and romance. So if you are looking for a fun college romance comedy then this book is for you.


View all my reviews