---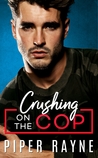 Crushing on the Cop
by
Piper Rayne
My rating:
4 of 5 stars
Reviewed by: Neilliza
**Copy provided by Tour Host, in exchange for an honest review**
Crushing on the Cop is a quick enjoyable read. Christian is such my kind of guy. Loves to work out, cares a lot about what he puts in his body, very responsible, caring and loving. That right there is like me describing my dream guy. Christian is all that and a bag of hotness. He is not one to play around with girls, he is in it to win it and I love him for that. Some girls may get turned off by how straight forward he is, but not me. Vanessa was basically scared of everything that Christian was, she didn't want love and Christian won her heart. This story is a sweet and fun read. Of course there's sexy times and laugh out loud times with the other brothers in the picture, laughs are always there and expected. I recommend this read for anyone who is looking for a lighthearted sexy and sweet read.



View all my reviews