---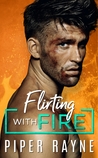 Flirting with Fire
by
Piper Rayne
My rating:
4 of 5 stars
Reviewed by: Neilliza
**Copy provided by Tour Host, in exchange for an honest review**
Flirting with Fire started out really awesome. Mauro and Maddie were great, I loved their banter. They were both too cute for words. I especially loved their childhood story, that moment they had in high school were just too sweet. Two kids looking at their future, planning it with a complete stranger like it was a normal thing. Then when they grew up and how they got together, it was fate. Mauro and Maddie really belonged together. Once they got together it got a little too cheesy for me, things they said to each other was a little too much for me. But all in all still a really cute and sweet story.




View all my reviews