---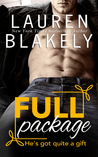 Full Package
by
Lauren Blakely
My rating:
5 of 5 stars
Reviewed by: Michelle
ARC provided by author in exchange for an honest review



A fun deliciously sinful romance!!!! Lauren Blakely is synonymous with romance that packs heat, humor, and passion and so it shouldn't surprise any of her readers that she has once again served up a romantic comedy that was swoonworthy and panty melting.

Lauren Blakely is one of those authors who can write male POVs like no other. Seriously, she is one of those authors who can write in a male POV and I wouldn't have a problem with it. In fact, I would LOVE IT. And in her latest, Full Package, Lauren will have us begging Dr. Chase Summers to give us a private examination.

Chase Summers is in need of a roommate and it so happens his best friend, Josie Hammer is in need of one also. Well, what happens when two best friends room together? Well, lots of chemistry, humor, sexual tension, banter, and passion!!! Duh!

It should be already given that Lauren Blakely didn't hold back when it came to describing the hot palpable sexual chemistry that was brewing between Chase and Josie. So if you are looking for a fun, adorable sweet, light and playful romance that packs heat then Full Package is definitely the book for you.