BUY LINKS: $3.99 KINDLE | $5.99 PAPERBACK
____________________________________________________________________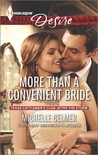 More Than a Convenient Bride
by
Michelle Celmer
My rating:
4 of 5 stars
Reviewed by: Neilliza
***Copy provided by publisher via Netgalley***
☆☆☆☆☆ 4.5 Stars ☆☆☆☆☆
Luc and Julie have been working together for years and the best of friends. But when immigration denies Julie's Visa extension request these two scrambled to find the best solution for Julie to be able to stay. Having known each other for years and being around each other almost everyday, meant they trusted each other 100% with their lives. So when the only solution for Julie to stay is to get married, they decided to stay platonic through the whole marriage. But once they both opened their eyes to the person that have been in front of them for years, they both started seeing each other in a new light. Best friends, turned into marriage with benefits and turned into love. Will these these to go on and see where this love will take them or will they stop everything too scared to lose each other's friendship? Read and find out.




More than a Convenient Bride is a very sweet and easy Happily Ever After Story. A short, but very fun read that will give you butterflies from all the sweet and hot moments. A best friend turns lovers story that is very easy to love. Luc being swoon worthy makes everything so much interesting. This is my very first Michelle Celmer book and I so loved and enjoyed it. I can't wait to read more of her books.

View all my reviews