---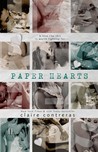 Paper Hearts
by
Claire Contreras
My rating:
5 of 5 stars
Reviewed by: Michelle
Copy provided by author in exchange for an honest review
"Pain isn't just losing the person you love. Pain is losing the person you love, seeing them with somebody else, and not interfering because you know you can't give them the life they deserve."


Have you read a book that leaves you breathless? Well, Paper Hearts by Claire Contreras was that kind of book for me. I absolutely LOVED this book. This book was everything every romance aficionado craves, wants, and needs when reading a love story. So when I first read Torn Hearts, I was immediately bewitched with the raw intensity, hurt, and love that Mia and Jensen had experienced in their relationship. My heart ached for these two because each of them made a choice. A choice that had affected them. And so in Paper Hearts, Ms. Contreras picks off where she had last left off and fast forward to five years, we are reunited with Mia and Jensen as they are given their second chance to rewrite their story.




Every love story is beautiful. And the story of Mia and Jensen may be one of my favorites. Though their story may be filled with heartache, disappointments, what ifs, and hurt but one crucial and important thing mattered:LOVE. The love between these two was what made this book so beautiful. It was about growth, acceptance, forgiveness, and starting over.

"I've lived in pain since the moment I lost you. I've learned to live with it, but I haven't learned to accept it."

Mia Bennett loved Jensen Reynolds. He was her lover. Her friend. Her soulmate. Her everything. And when Jensen broke her heart and told her that he got another woman pregnant and was going to marry her, it completely broke her heart. The love, the dreams, the hope, and the future that she had for them were shattered. The picture perfect love story that she had envisioned was just a memory that left her broken.

"He didn't let her go because he loved her too much to ask her to stay, but because he couldn't bear to hear her say that she wouldn't."




Jensen made one mistake but being a father was never a mistake. Jensen thought he did the right thing in letting Mia go because he knew he couldn't be the one to stand in the way of her happiness after what he did. We all know the saying if you love someone, let them go and if they come back to you, then you know its yours. Well, Jensen let Mia go and five years have passed and his second chance at love is standing right in front of him. Call it fate or what not but when Mia was hired for this temporary job where Jensen freelances, he knew he was given his second chance to make it right. His life sweetheart was within his grasp and he had to make her see that their story would finally get the happily ever after ending it deserves.




The relationship of Mia and Jensen is a complicated love story. It's a story where two people had to really look within themselves to realize that true love isn't meant to be easy. That love doesn't appear on command and it'll put you through hurdles but in the end, none of that will matter because it's about how you overcame these hurdles that define your love. And for Mia, the greatest testament of her love will be her ability to really and whole heartily forgive Jensen. To accept his mistakes and to accept what comes along in loving Jensen.




Paper Hearts took my heart. It made me feel every range of emotions and I loved experiencing the ups and downs of what Mia and Jensen had to go through. Though their love story may not be a perfect one but it is indeed a reminder that Mia and Jensen are two imperfect people who refuse to give up on each other. And that to me is a perfect love story. It is a story where the words of love can't be erased because it s forever ingrained and etched in our mind, soul, and heart. So if you are willing to get lost in a book that has the power to twist your heart and shatter it to pieces, but slowly have the author tape them back together then Paper Hearts is the book for you. Thank you Ms. Contreras for writing one of the most beautiful, touching, breathtaking, awe-inspiring, and tangible love stories that I have read.




As an avid reader, I love reading books that you can really make you FEEL. Feel the love, the hurt, the anger, the sadness, and most importantly feel the hope of possibilites. And Paper Hearts by Claire Contreras was one of the books that I can honestly say where I felt everything. I literaly have no words to express to how much I LOVED this book because this book was so much more than a fictional romance story of Mia and Jensen but a story that everyone can relate to. Mia and Jensen's story is a reflection of second chances at life and love. Ms. Contreras wrote a book that felt so REAL and RAW. A story where every facet of our life is about choices. The choice to forgive, to move on, to start over, to heal, and to love. I want to thank Claire for reminding us all that people who are meant to be together find their way back and they make take a few detours along the way but they are never lost.

There are two sides to every story. And in this story, Ms. Contreras takes us down one emotional, touching, heartbreaking and yet profoundly beautiful love story. A love story and bond that was so tangible and palpable. A story that could only be told through the eyes of Mia and Jensen. No words are necessary between two loving hearts. So if you are looking for a story where boy meets girl, boy and girl falls in love, boy and girl separate, boy and girl never stopped loving each other, boy and girl grow up, and boy and girl reminds us that their happily ever after was just waiting to be told then I highly recommend you to read Paper Hearts. So I leave you with one of my favorite quote in the book because in truth this one line sums up this beautiful book: "real love stories never end."

PAPER HEARTS: Michelle Approved.



Claire Contreras
View all my reviews