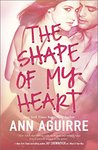 The Shape of My Heart
by
Ann Aguirre
My rating:
3 of 5 stars
Reviewed by: Michelle
ARC provided by author in exchange of honest review


**Review also posted on Four Chicks Flipping Pages**

The Shape of My Heart is the final book of the 2B Trilogy Series and it focuses on Courtney and Max. Courtney has always been attracted to her friend and roommate Max but they never crossed that line from friends to something more. That is until Max ask Courtney to accompany him to his grandfather funeral. In a couple of days, the blurred lines surrounding their friendship/relationship were crossed. Max and Courtney soon found themselves being friends to lovers. As much as I love the friends to lovers stories, personally it developed so fast for my liking. On the road, Max let Courtney into his past, secrets, and family problems. Courtney was also dealing with a past and issues with her family. She had experienced the loss of her soul mate, Eli when she was 17. Slowly, together Max and Courtney were able to mend their broken past and found comfort and love in each other. Together their broken pieces shaped who they are and slowly began to heal and become whole.




The Shape of My Heart is a enjoyable read but I did not fully love it. It was sweet, romantic and sexy but the long drawn angst and drama was a bit too much for me. I loved Max's character but I wasn't a fan of Courtney. I just couldn't connect to her as much as I would have wanted to. As for the epilogue, I loved it.. It's always great to see how the other characters are doing. Overall, The Shape of My Heart was a touching and enjoyable coming of age read!!