---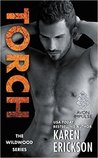 Torch
by
Karen Erickson
My rating:
4 of 5 stars
Reviewed by: Michelle
ARC provided by publisher in exchange for an honest review


We're back in Wildwood and the unknown arsonist still at large and Wren Gallagher is in a funk. After her two brothers found their happily ever afters with her best friends, Harper and Delilah, Wren begins to feel like the fifth wheel and questions if she should continue to live in Wildwood.

Wren is like any young twenty something woman trying to find herself and so when she drowns her sorrows in a few drinks, she finds herself being rescued by Tate Warren. Wren and Tate are fiercely attracted to one another but Tate knows not to cross the line after the warning from her brothers. He is well aware that he doesn't want to lead Wren on into believing in forever since he is not a commitment kind of guy. But after a few run ins with Wren, Tate find himself wanting her. When Wren's house is set on fire, Tate takes it upon himself to bring Wren into his house until she lands back on her feet. And like a moth to a flame, these two suddenly find themselves igniting a burning desire and passion for one another. As they crossed and blurred the lines of their friendship, will Wren discover that Tate Warren and Wildwood is her home and happiness? Or will Wren push Tate away?




Torch was a slow burn romance that had all the right elements to sizzle, steam, and ignite the push and pull relationship brewing between Tate and Wren. I really enjoyed their relationship from somewhat of frenemies to lovers. I love that Karen Erickson allowed readers to see that both Wren and Tate were just looking for the right person to love and make themselves vulnerable to. As much as I loved the slow burn romance aspect, I wished the author would reveal who the arsonist is and the ending left me wanting more so hence I couldn't give this book a full 5 star rating. But overall, I really enjoyed this book and loved how protective and caring Tate was with Wren.


Karen Erickson
View all my reviews