---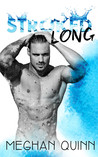 Stroked Long
by
Meghan Quinn
My rating:
4 of 5 stars
Reviewed by: Michelle
ARC provided by author in exchange for an honest review


Move over Phelps because Bodi Banks has taken over the spotlight!!!! Well, in the literary fiction world that is. Meghan Quinn has once again has readers diving into her latest release and doggy paddling like crazy to keep afloat with her hottest and sexiest male hero, Bodi Banks.


I'm finally fucking admitting it. She's beautiful. That wall has crumbled. I try not to show my emotions, let alone acknowledge them, but there is no denying Ruby's beauty. "

If you have read the first book of Quinn's Stroked Series then you are all aware that Meghan will have you drowning in love with her sexy Olympian heroes and this time, she will have you stroking long for Bodi and Ruby. Right off the opening pages, Meghan didn't waste anytime as she made readers fall for Bodi and Ruby instantaneously as she splashed some color, raw emotions, and vivid details to their story.




Bodi Banks may be an Olympic gold medalist and a famous hunky athlete but there is more to Bodi behind that drop dead smile and body. After a tragic past, Bodi keeps his emotions in check and everything in his life in control that is until he meets Ruby, the woman who splashed some color and life into his boring life. Ruby has been enlisted to help Bodi and his sister with an art foundation that they want to dedicate to their parents. As we see more interactions with Bodi and Ruby, readers could feel the chemistry that was brewing between these two. They were the perfect pair as they both helped balance each other out. Bodi may be the star in the water but he was definitely the golden star in this book as his raw personality and vulnerability had me rooting for him big time. He was a perfect blend of sweet, sexy, and alpha. So will Ruby making a splash in Bodi's heart?


Holy fucking shit. I've never experienced a moment like that before. Watching Ruby coming. Knowing I did that to her. How much she loved that. Fuck. Me."

So if you are looking for a book that had the Meghan Quinn signature literary stamp of fun, sexiness, comedy, passion, sexual tension, and off the charts chemistry then Stroked Long is the book for you. Quinn will not disappoint her loyal readers as she presents two strong characters who found their missing piece. All there is left to stay, go dive into this amazing sexy entertaining read. And yes, pun intended.