---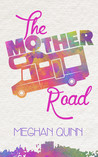 The Mother Road
by
Meghan Quinn
My rating:
5 of 5 stars
Reviewed by: Michelle
ARC provided by author in exchange for an honest review
"Son, I love you, but for the love of Gerald Ford, don't call your penis pretty. I know you like alliterations and find the beauty in even the nastiest of things, but calling your penis pretty is like calling your ass ring beautiful. It just doesn't work."

Be sure to pack some toiletries, clothes wet wipes, antibacterial soap, GoGirl, aspirin, matches, Funyuns, and of course an adult diaper because Meghan Quinn has done it again as she hilariously whips up another all out romantic comedy that will have you laughing non-stop in her newest release, The Mother Road. As someone who traveled on Route 66 for a few weeks with no set of itinerary, it seems I was traveling with the wrong travel companions because in The Mother Road, Meghan has wickedly created some amazing and fun characters who can only make a road trip memorable.


"I'm not a virgin, that's evident in the way that I've practically attacked Porter, and I've been around a few penises. I've seen small ones, little elbow macs that try to shove their way through your special place. And I've seen large cocks, ones that you wonder if they're really appendages or if they are there to slay your loins out on the bed. But this penis, the one that belongs to Porter, it's different. Not in a bad way, but in the best way possible. He's big, he has girth and it curves up just a little, which I know will only benefit me in the long run. Hands down, best penis I've ever seen."


Beauty blogger Marley McCann gets an unexpected visit from her dad and brother, Paul as they showed up in their family RV asking Marley to join them for one last family adventure before Paul gets married and to honor their deceased mother's wishes. Marley loves and adores her family so she says why not. Well this family trip of three got a little more exciting when Paul's best friend, Porter joins them on their trek across Route 66.


"Okay, I know what you're thinking, a bump to the shoulder, really , Marley? But let's just say you're sitting around a fire with, hmmm, Henry Cavill and his leg just happens to touch yours or maybe his shoulder brushes against yours, you can't tell me you wouldn't get all giddy inside too. Don't lie to me, I know the sexual magnetism Henry Cavill holds in the palm of his hand. Well, that's what it's like for me. Porter is my Henry, and honestly… he looks like him too, except where Henry has blue eyes, Porter has deep brown."

Marley and Porter have this unresolved issue that happened several years ago since Porter broke her heart and left her so Marley was a bit bothered to see Porter after so many years. And to make matter worse, Marley never expected to be covered in urine, have an upset stomach that would have you hiding in embarrassment and oh yeah to be stuck in a tin RV with the man you still love. So you can imagine all the sexual tension and build up that has been happening between Porter and Marley?


"Fall head over heels in love with him, throw caution to the wind, and give yourself over. Don't just be with him, but meld together with him, fuse your souls together so there is no way you will ever part."


The Mother Road was an explosion of laughter, good times, and family bonding!!!! This book was your feel good book that reminds us all that at the end of the day there are special people in our lives whom we can always count on. And for Marley, her family may be crazy, vulgar, and a little weird but at the end of the day, they still have each other's back and love each other fiercely. So if you are looking for a romantic comedy that will have you peeing in your pants, having the munchies for Funyuns, and to make sure the apple juice is really apple juice then I would definitely recommend you to check out The Mother Road. Be prepared to laugh, cry, swoon, fall in love, and laugh again!!! Thank you Meghan Quinn for another crazy adventurous journey!!!!


"As she walks out of the RV, she pats my shoulder in appreciation. And that, right there, that is the reason why I just made it seem like someone plucked a hair from my nut sac. To see that smile is worth all the ball hair plucking in the world."
Meghan Quinn
View all my reviews