---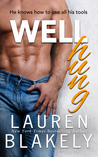 Well Hung
by
Lauren Blakely
My rating:
5 of 5 stars
Reviewed by: Michelle
ARC provided by author in exchange for an honest review


Lauren Blakely nailed it as she delivers an outright sexy, intoxicating, and hilarious addictive romantic comedy!!! Ladies, are you ready to meet Wyatt Hammer? If so, I think I need to give Wyatt a brief proper introduction.

Wyatt Hammer is soooooo hands on with all his projects. He knows how to use all his tools. *wink* You need someone to nail something to the wall. He can do it! You need someone who knows how to use a hammer. Ummm, he can definitely pound his way with his trusty hammer. And don't let me get started, Wyatt Hammer knows how to use a jackhammer. There is nothing this man can't do since he is Well Hung.


"She's like a tiger, and together we're animals."

Wyatt Hammer's construction business is booming and starting to take off. With a big account and a huge c*ck, there is no shortage of ladies wanting a piece of the Hammer but ever since an ex-girlfriend betrayed him, he has major trust issues that he is still hung up on. With the exception of his family and his trusty personal assistant, Natalie, Wyatt keeps his heart and bank account guarded. Deadbolt to be exact.




Natalie was a godsend. She kept Wyatt organized and his business afloat with her amazing managerial skills. Not only did she have the brains, but she was also gorgeous and had a vibrant personality. Wyatt knows that he should never mix business with pleasure and so he tries to be on his best behavior that is until a weekend business trip to Las Vegas.


"I knew you were looking at me like you wanted to fuck me. I looked at you the same way, and all I could think was how . . . well hung you are."

They don't call Vegas, the city of sin for no reason at all. Well as it turns out, a few alcoholic beverages and burning sexual chemistry was all it took for Wyatt and Natalie to cross that imaginary line from co-workers to husband and wife. Yes, Wyatt and Natalie were intoxicated with lust, passion, and alcohol so they decided to get married. Well as it turns out, nothing truly stays in Vegas as reality sinks in. Wyatt is freaked out that he got married and worried that Natalie will try to ask for a share in his company.




As Natalie and Wyatt tries to get their marriage annulled, Wyatt begins to see and realize that Natalie is not like his ex-girlfriends. Natalie doesn't care for Wyatt's bank account at all but truly cares for him. She sees Wyatt as the man who has hammered his way into her heart and lady bits. As Wyatt comes to this realization that Natalie is the one and that he doesn't want to lose her, will it be too late? Will Wyatt Hammer realize that Natalie has drilled her way into his mind, body and soul? Will there be a happily ever after ending for Mr. & Mrs. Hammer?


"Yes, all sex is good, but not all sex is created equally. I'm not just talking about hotel sex. Because I've just learned that sex with Natalie is in a class of its own. It's beyond hotel sex. It's more than the bee's knees. It's better than the cat's meow. It's heart-stoppingly magnificent. And I'm not the kind of guy who uses that word. But sex with her is indeed magnificent."

Lauren Blakely has definitely brought in the big guns as she nails, hammer, and drills her way into our hearts. Yes, I am that reader who is hung up on Wyatt Hammer. This book was everything you could want in a romantic comedy. It was steamy, playful, full of banter, and of course chock full of S-E-X that will make any reader squirm and blush. With her vivid animated prose and charismatic characters, Lauren Blakely has written a love story that was an absolute gem. Blakely has buffed and renovated a newly improved Wyatt Hammer as she titillates readers to swoon over his tools and big heart. So if you are ready for Hammer Time, then I suggest you better get those one-click fingers ready as Wyatt is one stud that every romance readers want to nail. *lol*