---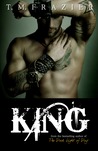 King
by
T.M. Frazier
My rating:
5 of 5 stars
Reviewed by:
Michelle
ARC provided by author in exchange for an honest review.


Holy Shit... KING by T.M. Frazier was a F*CKING BRILLIANT EPIC READ!!!! Pardon my language, but this book was just everything I expected and so much more. It was raw, dark, sensual, captivating, gritty, and an emotional journey that had all the FEELS. This book will grip you to the core and leave you begging for more of KING and his intense personality!!




T.M. Frazier's writing was intoxicating, spellbinding, and hypnotic that you couldn't put this book down. It is one of the reads that you had to devour but at the same time savor. The writing and storytelling was just so gripping that Ms. Frazier literally played and toyed with every emotions. She was like a puppet master who had our emotions on strings. And when you thought you were finally getting to that part of the story where you could feel at ease, Ms. Frazier just had to rip and gut your heart out. Yes, it's one of those reads that plucked, pulled, and toyed with every range of emotions. You wanted to shout, cry, hate, love, and scream WHY KING WHY!! I must be a glutton for punishment because I LOVED EVERY SINGLE MOMENT of this emotional, dark, gritty, cruel and raw read.




If you are looking for a book hero that will open up doors and whisper sweet nothings in your ear, then I'm sorry to disappoint you because KING is none of that. But if you are looking for a hero who acts on his emotions, a total bad ass alpha male hero, a ruthless killer, and who doesn't take shit from no one, then look no further than KING. King, is a ruthless criminal who recently just got of prison serving for a crime that changed his outlook and purpose in life. There are three things that matters to King... Max, Preppy, and Doe.

Doe is a homeless young girl who has no recollection of her past hence the name "Doe". When she finds herself at one King's house party, she didn't expect a circumstance of events would leave her in bed with a monster. King makes it known she belongs to him. His possession. His to take. Simply, his. But through time her perception of him changes. The man she sees as the devil and monster soon transforms into a man that she needs, wants and craves. A man who gives Doe a reason to be alive.




The relationship of Doe and King is not a kind of relationship that can be described as simple. It is one that is complicated but a tangible bond that can't be described by words alone. It's a bond that is deep, raw, heartfelt, palpable, and gritty. It is the kind of love that can destroy you but at the same time give you a meaning to fight and live for. So with no recollection of her past, Doe leans on King and submits to him fully. The walls that surrounds King's heart are crumbling because Doe is the only one who can make him FALL. She gives him hope. His light in the darkness. But what happens when the truth is finally revealed of Doe's identity, can she truly belong to him?




In all honesty, this book is one of those reads that is on my list of favorite reads of 2015. A book of this magnitude really showcases how resilient, raw, captivating, spell-binding and bewitching Doe, King, Preppy and Bear are in this book. What I love about this story is how T.M. Frazier can grip us with her masterful storytelling. She makes you FEEL and EXPERIENCE every heartbreak, anger, lust, hatred, and sorrow of all her characters. When a book can leave you breathless and in awe, then you know you have read an amazing book. And that was what KING was for me. Ms. Frazier did a phenomenal job interweaving so many raw elements but at the same time gave us a story with so much depth, honesty, grit, and palpable emotions. She was able to elevate this story to another level where you saw that looks can be deceiving and not to judge a character by their appearance. I want to thank Ms. Frazier for introducing readers to a complicated and complex hero that has stole my heart. So if you are looking for a book where you are taken down a dark, raw journey that has possibility of a luminous and hopeful ending then I HIGHLY RECOMMEND you to read KING.


T.M. Frazier
View all my reviews
---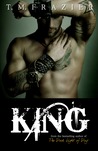 King
by
T.M. Frazier
My rating:
5 of 5 stars
Reviewed by:
Neilliza
**ARC provided by author, in return for an honest review.**
This is not my typical genre, but I'm glad I read it. King is dark, strong and very dirty. King's story pulled me in from the first page. This book is a page turner, that will keep you wanting more. King maybe dirty, scary and a bit of a bastard, but he also had a soft that will pull anyone's heart into loving him.




King himself will put you on an emotional ride, he will keep you guessing throughout the whole book on what he will do next. He maybe be a lot of things, but when it came to Doe he was an emotional mess. King is tough as nails, but with Doe his softer side would show when he let himself feel. He usually doesn't care about women, except for a quick f*ck, but when it came to Doe..he wanted to be a better man. The love that blossomed between Doe and King was intense and purely sexy. King loved being hard and controlled, but with Doe he could be gentle and full of love when the time is right. The story of these two put me on the edge of my seat the whole time i was reading it, then BAM the story ends with a cliffhanger. Now I feel lost, I cannot wait for book 2 to come out and see where King and Doe's story takes us. I can only hope these two will get the love and happiness they deserve, but with T.M Fraizer stories, you will never know.

View all my reviews