---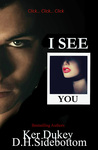 I See You
by
Ker Dukey
My rating:
4 of 5 stars
Reviewed by: Michelle
ARC provided by author in exchange for honest review


If you are afraid of the dark and twisty romance, then I will have to forewarn readers that I SEE YOU by Ker Dukey and D.H. Sidebottom is really dark. This book was utterly chilling, dark, gritty, raw, violent, bloody, and a mind-fuck!!! When I was done with the book, I was still reeling and processing on my thoughts of what I just read.




I SEE YOU is not for the faint of heart. Honestly, this book will take you down the dark rabbit hole where you are taken into the mind of a monster. Right off the prologue, you are immersed into the dark and as each chapter progress you taken into madness and the dark. And the only way to escape the darkness is to hold onto the edge of your seats and hope for the best. All I got to say the authors really kept their readers engaged in this intense, gritty, and heart-pounding read!! I SEE YOU is definitely one of those books that leaves you reeling. I wish I could say more but I don't want to spoil anything but I will just say this if you love a dark, mind fuck, twisted, crazy read then I SEE YOU is the book for you.

Ker DukeyD.H. Sidebottom


View all my reviews