---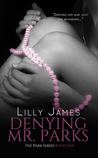 Denying Mr Parks
by
Lilly James
My rating:
4 of 5 stars
Reviewed by: Michelle
ARC provided by author in exchange for an honest review


Can a broken and damaged woman be healed? Through time, maybe. But what happens when an explosive force comes knocking down walls and pushing the limits? Will the push and pull dynamic set a whirlwind of destruction or will it be the saving grace? In Denying Mr. Parks, Ms. Lilly James truly captures her readers attentions as she delicately pulls the strings of the hearts of her readers as we feel the emotional struggle of a heroine trying to staying afloat while battling her demons and her heart.




Evelyn Banks is her worst enemy. She is in fact a recovering addict who is trying to get her life back in order. So when she meets Wade Parks, her life is turn upside down. Parks is everything that she knows must stay away. He is cocky, arrogant and dominant. He is the trouble that Evelyn knows she must stay away but the only problem is that she couldn't since Wade pursues her endlessly. The sexual chemistry was thoroughly evident and tangible between the two. But as walls begins to crumble, secrets and truths begins to unravel causing Evelyn to question her feelings. Wade begins to make her feel but the problem is that these feelings begins to resurface old wounds and fears causing her to retreat back to what she only knows that can temporarily heal and numb her. So will Wade be the one to help her from the darkness and save her from her demons? Or will Evelyn's truth be the destruction on the downfall of her relationship with Parks? Is he the destruction or salvation?

Denying Mr. Parks ends in a cliff-hanger and definitely has me wanting to get my hands on the second installment. Ms. James did a remarkable job in luring her readers to FEEL all the emotions from emptiness, hope, love, disappointment, lust, carnal desire, and heartbreak. In this heart-tugging read, Ms. James highlighted an imperfect person trying to get their life in order. And what I love about this book is that this book did not show a perfect or romantic fairy tale but a gritty side of loving a person who is battling with addiction and their demons. Love is not perfect and so Denying Mr. Parks shows the ugly sides of addiction and the emotional turmoil and battle of a couple trying to survive the darkness that plagues them.


Review can also be found on Four Chicks Flipping Pages: http://fourchicksflippingpages.weebly...
Lilly James
View all my reviews