---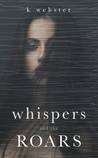 Whispers and the Roars
by
K. Webster
My rating:
5 of 5 stars
Reviewed by: Michelle
ARC provided by author in exchange for an honest review


Psst.. Do you hear it? Do you hear the whispers? The roars? The sounds of my heart beating wildly as I yell how amazing, poignant, and breathtakingly beautiful this book is? If you can hear the rumblings and whisperings of why K. Webster needs to be on your book radar then you know what book I am talking about. That's right Whispers and the Roars is the book that has truly elevated and made her an author who has not only delivered an epic love story but a story that is unforgettable as every character and raw emotion will be coursing through your veins.


"The darkness should frighten me. I should worry I'll find more monsters… monsters scarier than him. But I'm not afraid. It's safe here. When I'm inside of my head… He. Can't. Ever. Touch. Me."

It's no secret that I am huge fan of K. Webster. Okay, I am a stalker and she knows it and I secretly think she loves it. Before I go off tangent, I want to let readers know that Whispers and the Roars is by far one of the best books that she has written. This book had depth, vulnerability, a bit of darkness thrown into the mix and yet had that emotionally pull that will have you yearning for more.




Unconditional love is biggest message that K. Webster whispers and roars in the story of Kady and Yeo. I can go on and on about how amazing Yeo is but it still wouldn't give this character any justice because Yeo is a hero in every sense of the word. He is perfection. He is light. He is truth. He is understanding. He is a protector. He is a friend. He is a lover. And most importantly, he is the voice of reasoning and the missing piece in Kady.


"I love her. Plain and simple. You can't snuff out the blazing flames of love. Soulmates don't simply drift apart. Twelve years has done nothing to change the way I feel about her. The time with us separated is over. No more hiding. No more avoidance. No more denying our complicated relationship. I'm going to make this right again."

I know that I am being super vague about what this book entails but trust me you need to go read this book blind. Trust in K. Webster as she guides you into the darkness, the madness, and into the light. Yes, this is an unconventional love story but it is a story that will make you wish you had a Yeo of your own as he scrapbooks, whispers, roars, and tells a story of LOVE.

The writing was superb. Each word, characters and raw emotions were meticulously and flawlessly incorporated to give this book a deeper meaning of unconditional love. Yes, love can hurt and be imperfect but they way K. Webster showed us how far a man will go for love is the biggest roar and testament of them all. Love doesn't need to be loud. It can be a tiny whisper that can roar and be felt. And boy oh boy did I feel the rumblings of K.Webster's heart as she pours her soul and gave life to these characters.

Whispers and the Roars is a literary canvas that paints a heartrending, poignant, dark, and beautiful tale on love and sacrifices. From the opening pages to the very last page, you will hear, feel, live, and breathe for these characters. So are you ready to hear the sounds of love? Because I will just say K. Webster will play a beat that will be echoing for a long time. Hear K. Webster roar as she stamps her way into your literary heart.


K. Webster
View all my reviews