---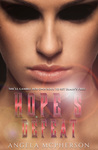 Hope's Defeat
by
Angela McPherson
My rating:
5 of 5 stars
Reviewed by: Neilliza
I just wanted to say that I have been waiting years for the series conclusion and I am super excited to finally get my hands on Blaine.. I mean Hope's Defeat. Sure years of waiting made me restless, but it surely was worth the wait.

Blaine and Trinity's love is so strong that nothing could keep them apart, not even Cronus. I love how strong Trinity is, not even Cronus could keep her snark away. And Blaine, boy do I love the man. He is one of the strongest and his love for Trinity is so strong, that he would do anything for her..even die to save her.

I just have to say that the Cave scene was super hot and sweet, without being too descriptive. I waited years to have that scene and I loved it. It was what Blaine and Trinity's love was made of.

I waited years for an epic ending of Trinity and Blaine's love story, but I was left a little disappointed with a very short Epilogue. I am happy for the happy ending, but I feel like Trinity and Blaine deserves more than a short reunion. It felt more like a beginning of another story than an ending. Even with my little disappointment, I still loved it and still a good ending to this awesome series.





View all my reviews