---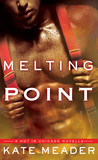 Melting Point
by
Kate Meader
My rating:
5 of 5 stars
ARC provided by author/publisher in exchange for an honest review. Thank you Kate for the ARC.


Ring the alarm because Kate Meader has once again turned up the heat in her newest sizzling book, Melting Point. Though this book had sizzling chemistry but what stole and grabbed my attention and melted my heart was the love between two men who found solace, hope, comfort and love within each other.




Kate Meader has been one of those authors that I instantly gravitate to since her writing and storytelling is phenomenal. She has a way of making her readers FEEL for her characters and that's what she did in Melting Point. She made readers understand the meaning and power of love and that is love can heal. And for Gage Simpson and Brady Smith, their journey to the HEA was not an easy feat since they both had strong personalities and different outlooks on life and love. When Gage and Brady first met, the chemistry was so palpable and tangible and readers knew it was only a matter of time for these two to be sizzling up the pages!!!

Brady Smith is the closed off, ex-former Marine and chef of a well-known Chicago restaurant. Brady has always kept his feeling locked up since his past still haunts him mentally and physically. And it was up to Gage to slowly knock down the walls that surrounds Brady's heart and hard exterior. As the the walls slowly comes crumbling down, the love between Gage and Brady can only be summed up as breathtakingly beautiful and passionate.

Melting Point was seductively heartwarming and touching. I loved this sweet and yet fiery hot read as two men who experienced heartbreak found love, passion, solace, comfort, and understanding with each other. Ms. Meader did an amazing job with this novella. She melted our hearts and ignited a burning inferno of sizzling chemistry as Gage and Brady reminded us that love can heal. So if you want to read a scorching sexy love story that is palpable and tangible, then I highly recommend you to read this book.


Review can also be found on Four Chicks Flipping Pages: http://fourchicksflippingpages.weebly...
Kate Meader
View all my reviews