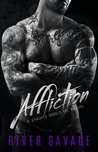 Affliction
by
River Savage
My rating:
5 of 5 stars
5-Hot Alpha MC Stars
**I was provided a complimentary copy from the author in exchange for an honest review**
Sy is a one hot piece of ass. Yes, one broken bad boy who has his own demons and does not know what to do with it. Losing someone who was so important in your life and not having to see them ever again, is unimaginable to experience. There's some wounds that he doesn't think will ever heal. Believing this, had made him push anyone who comes close to caring about him. But everything changes since he can't seem to keep his eyes off Holly. She had rendered him speechless. He tries to deny and keep to himself what he really feels about Holly.




Holly has been burned before and letting someone in is something she can't have right now. But seeing Sy, might just ruin all her plans to not let anyone in other than her friend Kadence. Fighting and denying the attraction will no longer be a choice. When something tragic happens to her, she becomes more closed off than she ever was to begin with. Sy, will stop at nothing to make her realize that this thing they are both feeling might just be something that could both help them heal their broken heart.

I was looking forward to reading book 2 and River Savage did not disappoint. She brought in blow after blow of pure heat and steamy scenes. But don't you forget the love that was smoking hot,seeping through both Holly and Sy's skin. Will they both be strong enough to hold on to what they think might be special enough to break down the walls they both put up? You'd have to read to find out. I can't wait to read more of River's writing.