---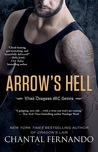 Arrow's Hell
by
Chantal Fernando
My rating:
4 of 5 stars
Reviewed by:
Neilliza
**ARC provided by author, in return for an honest review.**
*** 4.5 Stars ***

Anna had been away from her brother Rake. But when she decided to move closer to him, to be able to spend time together and be a family her whole life changed. She didn't want anything to do with the MC life and neither did her brother. But the more protective her brother was the closer she got to the MC life. According to her brother no one in his MC family is good enough for his sister, that she was off limits to all his brothers. But the day she laid eyes on Arrow she knew her heart belonged to him. The day after they met, she couldn't think of anyone but Arrow.




Arrow was a a**hole, dirty talker, don't give a damn kind of guy, but she knew there was more to him that meets the eye. She knew there was good in him, she has seen and heard how he can be. She also felt a pull when it came to him, no matter how much she tried to forget him, she couldn't. When Arrow finally gave in and it gave them a chance to get to know each other, that's when she realized Arrow's past was always in the way. His guilt always got the best of him and sometimes he didn't realize how much it was affecting his present. As Anna falls in love with him, the more Arrow wants to open up. But will Arrow ever be ready to give her the love she deserves? Or will his past get in the way? Read and find out.

This was a quick and enjoyable read. At times laugh our loud funny, Tracker had been always the life of the party and always a goofball. I hope to read about Tracker's life next. I also really love how strong of a heroine Anna was. She says and does what she wants no matter what anyone else says. She was her own woman and a hell of a spitfire. When it came to Arrow and Anna they were a perfect match. Anna was the only one that could put Arrow in his place. Love this.

View all my reviews
---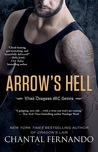 Arrow's Hell
by
Chantal Fernando
My rating:
5 of 5 stars
Reviewed by:
Michelle
ARC provided by publisher in exchange of an honest review


Remorse. Guilt. Hope. Love. Second Chances. New Beginnings. These words are a few words to describe this emotional, raw, poignant, and yet heart-tugging read by Chantal Fernando. When you think of MC romance books, automatically one would think of gritty, bad ass bikers who are womanizers Yes, Arrow's Hell had that one element integrated into it's story but this book was so much more. So what's more? Well, in the case for Arrow's Hell, this book was about exposing and peeling layers of love, emotions, healing, and second chances.




HELL. It is defined as a place regarded in various religions as a spiritual realm of evil and suffering, often traditionally depicted as a place of perpetual fire beneath the earth where the wicked are punished after death. The word hell can also be associated with an individual's suffering. As humans, we fear hell. And for Arrow, his own hell came in the form of remorse and guilt. Guilt that a innocent life of someone he cared and loved for was taken from him. A burden that he has carried for five years. So living in his own personal hell of guilt, can Arrow find a way to see the light? The light of hope? Of love? Of second chances?




Arrow's Hell was about the unraveling of vulnerabilities and true raw emotions of love and guilt. And for Arrow his journey to healing and salvation came in the form of a feisty 25 year old scientist, who has the power to put him in his place. They say love heals. And for Arrow, he found his solace in Anna, the baby sister of Rake, a member of the Wind Dragons MC. Arrow knew once he crossed that line with Anna there was no turning back because there was something he saw in her that ignited passion, happiness, and life back into his life. So can Anna be the angel to rescue Arrow from drowning in his own personal hell?

The chemistry between Anna and Arrow can only be described as tangible. It was one of those magnetic connections. Once you had a taste, there was no turning back for these two. The love between these two was felt throughout the book. Ms. Fernando did an amazing job showcasing the depths of emotions and the pull Arrow and Anna had for each other. Their love really highlights how protective they were for each other. It was the kind of love worth fighting for. The kind of love that's pure. The kind of love that heals. And Ms. Fernando truly allows her readers to FEEL for them. Though, they may not be the perfect couple but that's what makes them feel real for readers like myself. I felt their pain, hurt, disappointment, happiness, jealousy, passion, and most importantly their love.

Arrow's Hell was a well-written story that I found myself enjoying and getting lost in the story of Anna and Arrow. This book had so many elements integrated and intertwined into the storyline from love, friendship, raw emotions, angst, drama, and of course showcasing the raw and gritty side of MC life. So if you are fan of MC romance, I highly recommend you to read Arrow's Hell. This book exemplifies the meaning that love truly heals and second chances are not to be wasted.

View all my reviews