Incandescent
by
River Savage
My rating:
5 of 5 stars
Reviewed by: Michelle
ARC provided by author in exchange of honest review
☆☆☆☆☆ 5 "I need for more NIX" Stars ☆☆☆☆☆
Ardent. Passionate. Fiery. Burning. Fervent. Intense. Spirited. These words simply describe River Savage's debut book, Incandescent. To say I love it is an understatement because Ms. Savage has made me an instant fan. From the first page of the prologue, I was hooked and devoured this book in one sitting and couldn't get enough. I wanted more. More Nix and Kadence. More from the Knights Rebels MC. Simply, I wanted more and did not want to say goodbye to Nix and Kadence. If you are looking for a love story that will consume you, look no further because Incandescent is one fiery steamy MC romance that will having you begging for more of Nix Knight's dirty mouth.
When school teacher, Kadence Turner meets her student's parent, Phoenix "Nix" Knight, all rational thoughts went out flying the window when the sexy domineering and hot as hell parent entered her classroom. From his bossy attitude and alpha male persona, Kadence knew she was doomed the moment he spoke. His voice. His looks. His dominance. His presence. And his dirty mouth was all Kadence needed to succumb to her inner lust and desires. For Nix, Kadence Turner consumed him. He wanted her and so he pursued her well pursued is putting it mildly, he stalked and made sure Kadence was his. One date. One night of hot sex was all that was needed for this couple to begin one hell of a whirlwind of intense passionate relationship.
Nix's dirty filthy mouth and persona was equally matched with Kadence. The raw and bossy nature of Nix is what drove Kadence mad but equally turned on. The balance of their relationship was both hot and sexy. Behind Kadence sassy persona, lies a woman dealing with emotional and physical scars. Scars that runs deep that has affected her bodily image and left her bitter. It takes a real man to see behind the scars lies beauty and for Nix he saw no imperfection in Kadence. She was his the moment he laid eyes on her. So when Kadence's past comes barreling back into her life, Nix makes it known that KADENCE TURNER belongs to him and he will hurt anyone who endangers the people he loves. So when a rival MC and an revengeful ex comes knocking on the doors of the Knight Rebels MC territory, how far is Nix and his men willing to go to stake what is rightfully his?
So if you are looking for a book that has sexiness, banter, dirty talking, HOT MC bikers, and a blazing inferno of love then I highly recommend you to read Incandescent. This book was simply captivating and I can't get enough of the Knight Rebels MC. You do not want to miss out knowing who Nix Knight and the men of the Knight Rebels MC.
---
Incandescent
by
River Savage
My rating:
5 of 5 stars
Incandescent
By: River Savage
Reviewed by: Kathleen
My rating: 5 of 5 stars
ARC provided by an author in exchange for honest review
✩★✩★✩5-SEXY ROUGHNESS STARS✩★✩★✩
First time Nix and Kadence meet, you can totally feel the electricity flowing through them. Kadence is a teacher of Nix's son Zayden. The love he has for his son is priceless. Anyone who shows love and affection makes you look vulnerable.
Which isn't good since he is the President of Knights Rebel, he has a reputation to behold. The members of the club had cleaned up their acts and started involving themselves with charities and just basically insuring that the town stays clean and what they do is legit. I love the chase between Phoenix "Nix" and Kadence. It's hot as hell and makes it sort of forbidden, since it's between a teacher and a parent. Kadence is a feisty little minx who is in denial of her attraction to Nix.
They both loved sparring and it just made it even hotter for the both of them. The aggressiveness and roughness when it came to their sex life was off the wall. All Nix wants for Kadence is to be kept safe, but she isn't making it easy. I honestly loved how she had him wrapped around her little fingers. All the trials and tribulations given to them, they still manage to rise above it all. The one minute I love you and the next I hate you, issues they had made me want to pull my hair, like literally.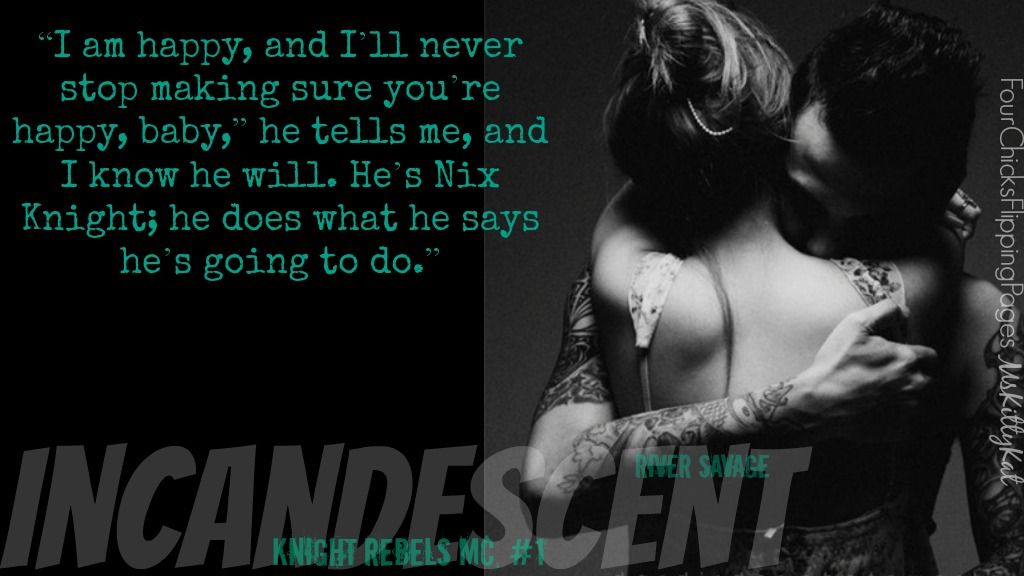 If you love someone let them go and once they come back, you know it's worth it, that it's meant to be. It's how I saw Kadence and Nix. Their love for each was so strong. And it didn't matter where she was he'd always find her. Lots of twist and turns. Will their love for each other be strong enough to stay together? Or will Kadence think Nix's way of life is too much for her to handle? This is my first read by River Savage and I love and I want more.