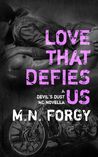 Love That Defies Us
by
M.N. Forgy
My rating:
3 of 5 stars
Reviewed by: Michelle
ARC provided by author in exchange of honest review


Love That Defies Us by M.N. Forgy was a sweet novella that interlaced grit and devotion. Dani and Shadow have been through the ringer in their relationship with everything that they had to overcome and in this novella, it follows up on Dani, Shadow and Zane as a family. With Shadow's VP position, Dani and him have become a little distanced and so they hope to rekindle and reconnect with one another but with a Valentine Massacre that is targeting those associated with the Devil's Dusty MC, romance may have to be put on the back burner till the killer is caught.

In this novella, M.N. Forgy was able to incorporate revenge, an eye for eye, and of course those sexy MC bikers of Devil Dusty. So if you are bigs fans of Dani and Shadow, this novella was the perfect Valentine read for this couple. And if you are a Bobby fan, then you should be happy to know that he played a big part in this novella and I can't wait for his book.


View all my reviews