---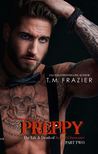 Preppy: The Life and Death of Samuel Clearwater, Part Two
by
T.M. Frazier
My rating:
4 of 5 stars
Reviewed by: Michelle
ARC provided by author in exchange for an honest review


He's back.. And this time hell has no vengeance like staring death in the eyes and taking your life back from the Reaper, himself. Yes, ladies and gentlemen, Preppy is back among the living and is reunited with his pals King, Ray, and Bear. But here's the thing about being back from captivity, it sucks big time because everything that Preppy once knew and held dear changed. King and Ray started a family. His best friend Bear is engaged and about to be a father. Whereas Preppy is still adjusting to the change. And this new version of Preppy is someone no one recognize.


Logan's Beach used to be my place. My security blanket. But coming out of the dark and into the blinding light I'd been craving for so fucking long wasn't at all what I thought it would be. It was a new kind of hell. "

When Dre discovers that Preppy is indeed alive, she rushes over to see him. A flood of different emotions courses through Dre. She is shocked, happy, relieved, sadden, angry, and most of all confused. Confused on how much she still loves and cares for him. He once saved her and seeing this new version of Preppy, she feels the need to save him also. But how can you help someone who doesn't want to open up?


I have nightmares all the time. You know what's the only thing that makes them go away?" He placed his hand over mine. "You. You silence the world when it's too fucking loud. You make me feel less broken."

After being held captive for so long, the Preppy that everyone knew also died and left a broken damaged man. This new Preppy is a man searching for his next high so he can numb out the pain and memories of his torture. But with the appearance of Dre, Preppy is assaulted with the truth. That Dre has always been the one. The one girl who also saved him when she flooded his heart and soul with love. Since death already knocked on Preppy's door, will Preppy let the Reaper finally in? Or will he finally realize that Dre is his second chance at life?


Which is why, when faced with the fucking end of my life, I spit in the Reaper's face. Because my name is Samuel Clearwater, and I take orders from no one. Not even death "

In Preppy: The Life and Death of Samuel Clearwater, Part Two, T.M. Frazier once again hooks readers to really see that Dre and Preppy had to really go on their separate ways in order for them to really grow up and become the stronger individuals that they are. For Dre, she had to get her life back on track. And for Preppy, he finally saw the truth. He had a family that had his back and loved him flaws and all including, Dre. While this installment took on a more gritty emotional undertone, I loved it and understood T.M. Frazier reasoning on why Dre and Preppy's story couldn't be completed in this second installment. Individually and together we had to see the journey and growth of this couple. I will just say I will never get tired of these cast of fictional characters that Frazier has created. She allowed us to see flawed, broken, damaged, and vulnerable characters who were able to cast off the darkness in their lives and take reign. All there is left to say, are you ready for more suspenders, bow ties, and the smart dirty mouth of Samuel Clearwater and his beloved Doc? If so, be prepared to get lost in Frazier's gritty and emotional prose as she holds you hostage with not only her words but her characters.