---
Revive
by
Nina Levine
Reviewed by: Michelle
My rating:
5 of 5 stars
ARC provided by author in exchange of honest review
☆☆☆☆☆ 5 Sweet Thing Stars ☆☆☆☆☆
HOLY HOTNESS!!!!! Move over J, Scott, a new sexy dirty talking bad boy is my new favorite of the STORM MC and his name is NASH WALKER. Talk about dirty, sexy, raw, and emotional… REVIVE is hands down my favorite of the STORM MC Series. I found myself devouring this book in one sitting and loved every minute. Nina Levine will wow you with her spellbinding ways in which she delivered an emotional, touching, sexy and suspenseful story of two broken hearted people finding love. For Nash meeting Velvet Carr was fate. Becoming her friend was a choice. And falling in love with her was beyond his control. When love comes knocking unexpectedly, be prepared for two broken people reviving and pumping back love into their hearts.
Nash Walker is one sexy dirty talking tattooed bad boy of the STORM MC. He is a certified manwhore and womanizer. He doesn't do relationships ever since a painful past relationship. Well that all came to an abrupt halt, when he found himself wanting his friend Velvet Carr. He could no longer deny and resist the one girl who has gotten under skin.
Velvet Carr was a stripper at Indigo, a strip club that Storm MC owns. On the exterior, Velvet is a tough chick but behind the facade, she is a broken woman due to a previous relationship. For five years, Velvet protected and kept the wall surrounding her heart up but that all came crashing down when Nash Walker entered her life.
Revive was an emotional and heart-tugging story of Nash and Velvet reviving their hearts and of course the tale of the STORM MC boys. For me, Nina Levine has stepped up her game in this book. She took a dirty, gritty, bad boy and turned him to be one of my FAVORITES. Nash Walker tragic past broke my heart and I love that behind the image he projects, he was a guy looking for someone to put back the pieces to his heart. The sexual chemistry of Nash and Velvet was hot and combustible. Ms. Nina Levine will keep you glued to your kindle because an unexpected twist of turns of events will having you begging for more. I can't wait for Blade's story.
---
Revive
by
Nina Levine
Revive
By: Nina Levine
My rating: 5 of 5 stars
Reviewed by: Kathleen
ARC provided by the author in exchange of honest review
5 bikers ✩★✩★✩'s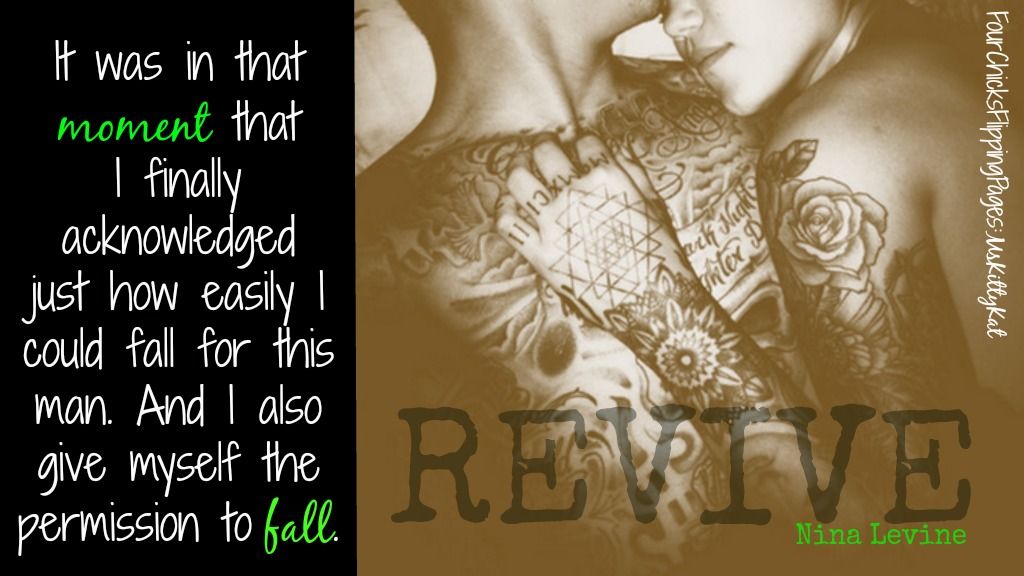 Two lost, broken souls had been nothing but friends...or so they think. They are in serious denial that they are trying to hold on to instead of giving in. Nash has his own demons...a woman broke his heart and after that, he has not been committed to anyone. All he does is screw anything that that walks. It's what he does to block out all the heartbreak and pain he feels. As for Velvet, she's put up this wall, so she would not fall in love with anyone. Somehow that changed when Nash barged into her life and wormed his way into her heart. This is all packed with sorrow, pain, undeniable attractions between friends, the hot scenes nearly killed me, there definitely bunnies in here and don't forget the loyalty and friendship they both have for each other.
Nash the sexy biker loves to talk dirty and I fell in love with him. and Velvet the sexy ass who doesn't hold anything in when it come to her friendship with Nash, she just tells him like it is. Their friendship grows into something more and I just couldn't get enough of them. Through the years they've known each other, theres's always been that more than friends relationship they want with each other, in the back of their minds but afraid of pursuing it.
What an emotional crazy journey and I wouldn't have it any other way. I loved it Ms. Levine. I can't wait to read more of your work.