---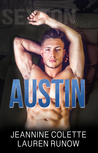 Austin
by
Lauren Runow
My rating:
4 of 5 stars
Reviewed by: Neilliza
**Copy provided by Tour Host, in exchange for an honest review**
Austin is fast and the furious, hot read. Austin a street racer, is not your typical racer. He is a well-known person, rich and a guy every girl wants and the guy every guy wants to be. In the street he is known as Falcon and outside his secret life he is Austin. He is fast and in hiding. When Austin met Jalynn, he knew that she was different and he couldn't stop thinking about her. It didn't take long for them to connect. Sure Jalynn made his blood boil, but he never met anyone like her. She made his blood boil both in anger and excitement. They were one hot couple. I love their connection and of course I enjoyed them when they worked together trying to keep his secret life a secret. Austin wasn't your typical rich guy, he was sweet, caring and not a male whore. Sure he sleep with a few people, but he didn't sleep around like any typical rich and hot blooded male would. I enjoyed reading about Jalynn and Austin's love affair.




View all my reviews