---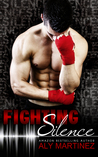 Fighting Silence
by
Aly Martinez
My rating:
5 of 5 stars
Reviewed by:
Michelle
ARC provided by author in exchange of honest review


Every reader has an author who is an instant one-click and Aly Martinez is that author for me. And in her newest release, Fighting Silence, she has literally left me speechless. I am utterly in awe of this brilliant and emotional book that exposes the vulnerability, strength, and heart of what it truly means to be a FIGHTER. A fighter is known for its physical strength but a true fighter knows that it means nothing if you don't have dedication and can make sacrifices for your craft. And most importantly a true fighter must have HEART. The heart and belief that there is something worth fighting for.




Fighting Silence is not your ordinary fighter romance book because Aly took her readers on an emotional and breathtaking tale of what it means to FIGHT. To fight for yourself. To fight for your family. To fight for your dreams. And the most importantly to FIGHT FOR LOVE. When you have the love and support of the most important people in your lives, nothing and no one can hold you back regardless of your social status. Aly Martinez didn't just give us fictional characters, she gave us characters who inspire us to have HOPE and sometimes fantasy can become reality.




When you have to grow up so fast and take responsibility at a young age, reality can look bleak when you grew up on the wrong side of the tracks. At a young age, Till Page had to grow up so fast and become the man of the household when he had two neglectful parents, who should be providing the roof and food on the table. But for Till he became the breadwinner of the family. He is a testament of a boy who became a man instantaneously when he took the sole responsibility of the welfare of his two younger brothers, Flint and Quarry. When you live a life, where money is a struggle, dreams of a better future can look slim for a young man who doesn't have a college education. But in the face of adversity, light and hope came in the form of Eliza Reynolds. The girl who took his heart from the moment he laid eyes on her when he was 13 years old. She was his fantasy. The one who owned his heart and made him feel like the richest man in the world.




Eliza and Till had this connection and bond that could not be destroyed. Their love and devotion to each other literally took my heart. There aren't enough words to describe how touching and emotionally connected these two were. There love went beyond the words that Aly wrote because action speaks louder than words and their love was felt in every page. Every unspoken word, touch, tears shed and physical connection, the words of love, hope, family, sacrifices, and reality were FELT.




Though this book was about love, dreams and reality, the underlying theme of FAMILY was predominant in the storyline as well. Till was not only a sweetheart and amazing hero, but he was also a brother and father figure to his younger brothers. Not many men would take on the sole responsibilities of the welfare of their younger siblings at a young age. Till was not only fighting for his dreams but he was fighting for the future for Flint, Quarry, and Eliza. He wanted to make sure the doors were open wide for the people he loved.




Fighting Silence is one of those books that must be experienced and read. It is a book that takes you on a journey of rediscovering of what truly matters in life. You can have money, fame, and glory but would that really make you happy in life when you don't have the people you love with you. This is definitely a book that I will cherish and love because Aly Martinez truly captured my heart with this beautiful, heartbreaking, and uplifting tale. Fighting Silence is a reminder that one day we will find a place where our dreams and reality collide. What can I say but FIGHTING SILENCE IS A MUST READ!!!!


Aly Martinez
---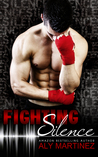 Fighting Silence
by
Aly Martinez
My rating:
4 of 5 stars
Reviewed by:
Neilliza
*A copy provided by Author, in return for an honest review.*
☆☆☆☆ 4.5 Emotionally Beautiful Stars ☆☆☆☆
Fighting Silence is an emotional roller coaster ride of Till and Eliza's lives. Both fighting their way to find their space where they belong in this world and finding balance with each other.

Till and Eliza both live a life of hardship, because of what each no good for nothing parents put them through and keep putting them through. The first time they met was when they were only thirteen years of age, when they both found a place to escape their reality. On that day they found their fantasy escape from what real life is by being together in their own little world. When they meet up they were in their fantasy world, where they are the only ones that existed. Where everything that is wrong are forgotten and all they see are their hopes for their future.
That first day they met they knew they belonged to no one else, but each other. Years past, they stayed friends, knowing the best thing to be with each other are friends. They dreamt of what life could be with each other, if they just let go and be the love of each other lives, but life always got in the way. No matter what they stayed true to each other and Till's brothers, they became family. They were each other's everything. Until that one night before Eliza left for college everything changed. Sex was sweet and everything they both hope for. After that one night, their relationship was never the same again.
Years went on and their reality of a life gets harder and harder. But they faced their lives head on together, while taking care of Till's brother. With Till going deaf so fast at such a young age, life and love got harder and Till started to change.
Will Till and Eliza pull through all the hardship they have been going through?
Or will they give up the fight and let each other go? Read and find out.
I love Aly Martinez's writing, it is always beautiful and well written. I loved Among the Echoes and I would never forget that book. But this one is different. This one is so emotional that you would never guess where Aly will take you, until the last page. As much as I loved Till, I was ecstatic that my favorite Slate from Among the Echoes was around to help out Till with his mess of a life. This is a great read, but remember if you decide to read this..you better be ready to be an emotional mess.
View all my reviews