Wildcard: Volume Two
by
Missy Johnson
My rating:
4 of 5 stars
Reviewed by:
Michelle
ARC provided by author in exchange of honest review
☆☆☆☆ 4 Wildcard Stars ☆☆☆☆

Right off the opening page, we pick off where we last left off in Volume 1. Ryder is back in the States and is pissed off to see that Scarlett is with another man. Who is this mystery man? Hurt and angry, Ryder tries to forget Scarlett but just couldn't do it. When Scarlett shows up on his doorstep, he couldn't deny his longing for her. Truths of who that man is revealed. But as Scarlett and Ryder begins this uncharted new territory of their relationship, past secrets Scarlett tried hard to forget and keep hidden soon begins to surface. What secrets will Ryder unravel?




Match point for Missy Johnson!! She has done it again and left her readers begging for more after reading Wildcard Volume 2. In this second installment, questions of who the mystery man is are answered. But of course, Missy had to tease her readers with another cliffhanger ending begging the question what is Scarlett hiding? I can't wait for the third and final volume of this series.

Back to Top of Page
Wildcard: Volume Two
by
Missy Johnson
My rating:
4 of 5 stars
Reviewed by:
Kathleen
WILDCARD VOL. 2
BY: MISSY JOHNSON
REVIEWED BY: KATHLEEN
*ARC GIFTED BY AUTHOR IN EXCHANGED FOR AN HONEST REVIEW*
✩★✩★✩4.5 RYDER Stars✩★✩★✩



Scarlett and Ryder's story continues...it keeps on getting more and more chaotic. Ryder decided to go to the US to visit Scarlett and when he stood in front of her doorstep, he started to rethink the reasons why he never did relationships. Committing means it could cause heartbreak and taking risks. I guess he just didn't see that one coming when he saw someones hand all over Scarlett when she opened her front door. Well, sometimes KARMA's just out there to find you without even knowing it's about to slap you in the face. All the sleeping around he's done, now it's catching up to him.





Scarlett has a secret that she can't seem to shake off. Her son's father is blackmailing her for something, but no one knows what it is. Ryder would like to know because he can tell it's weighing her down. Scarlett is starting to fall for Ryder but she doesn't want to get him involved with all the turmoil in her life, caused by her son's father. BUT Ryder is already involved and he makes it his mission to help Scarlett. Sometimes when you're told not to dig and get involved into someone's business, you just can't stay away. You care about the special someone whom you know is struggling with all the baggage and seems like that person needs help. So, what do you do? You help, even knowing for a fact that no one ever asked you for help. It's just how it is when you care for someone so much that you just want to take care of them, to go out of your way. I'm just worried about the outcome.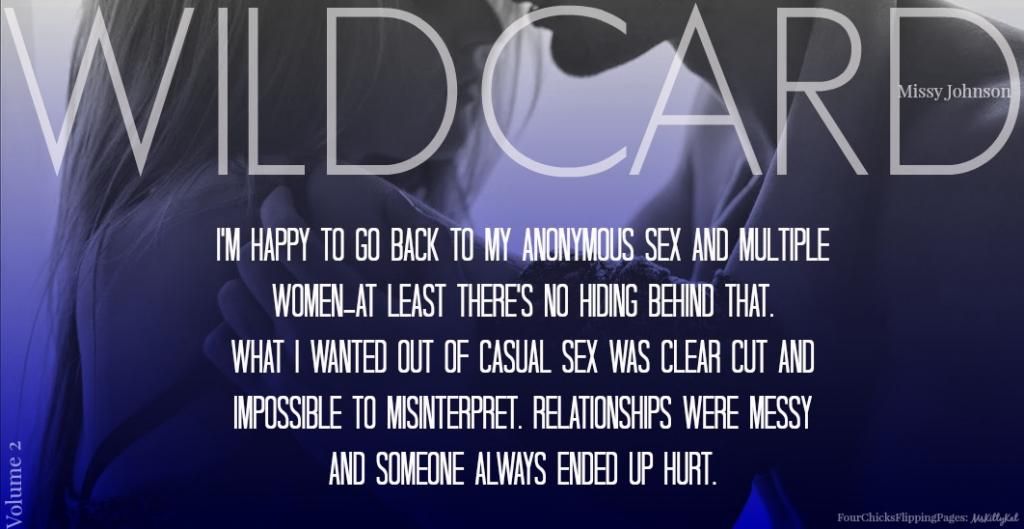 Ryder is on a mission and he will stop at nothing just to get rid of this loser ex boyfriend of Scarlett. He is asking someone for help, someone he had slept with and he's not sure it's a good idea, but anything that could help Scarlett, he will take. He just hopes that it doesn't bite him in the ass in the end.

Scarlett and Ryder is starting to get close but they are both scared to pursue this relationship they have. I love how Ryder tried to forget Scarlett by trying to get intimate with some random chick but all he had in his mind while this random chick was pleasuring was Scarlett. He just could not get her out of his mind and same goes with Scarlett. But will they both hold on to the relationship they are trying to have with all the problems surrounding them? Only one way to find out, read the book. I can't wait for volume 3 to release. Missy, I will say it again, you had me on the edge of my seat in volume 1 and even worst in volume 2. I'm so anxious to find out what happens in volume 3. Ryder and Scarlett you've wormed your way into my heart and I want more.

Back to Top of Page
Wildcard: Volume Two
by
Missy Johnson
My rating:
5 of 5 stars
Reviewed:
Neilliza
*A copy given by author, in return for an honest review.*
Another sexy book by Missy.
After reading Volume 1 of WildCard I hated Scarlett by the time it ended. I wanted to put a smack down on her for hurting Ryder, but after reading Volume 2 my feelings about her changed. Now I feel bad for Scarlett for having to deal with a person like Tony. Tony is a heartless son of a b****. What kind of person puts someone he said he loved through the most of awful things? Even threatening to hurt his own son, if he had to.
Through it all I love Ryder's character more and more. The changed that he goes through, because of Scarlett is amazing. He hasn't only started to show he has a heart, but he showed that he can also fall in love and that he is no longer the a** he was. I love how protective he is of Scarlett, even putting his own safety aside to keep her safe.
This 2nd volume ends with another cliffhanger, but not as bad as the 1st. At least on this one you know where they stood with each other. I cannot wait to read the last volume, to read Scarlett's and Ryder's hopefully Happy Ending.
Back to Top of Page