---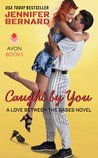 Caught by You
by
Jennifer Bernard
My rating:
4 of 5 stars
Reviewed by: Michelle
Calling romance fans... Jennifer Bernard has readers running around the bases as she delivers a home run love story that will definitely set hearts swooning!! Ms. Bernard does not strike out when it comes to delivering a sexy, steamy, and fun romantic read that will definitely have readers like myself caught off guard on how charming small town love can be.

Caught by You is the second book in the Love Between the Bases Series and could be read as a standalone. I was easily smitten and charmed with this delightful read. As a big baseball fan, I love when an author can create a fun romance story but still keep it fresh and sexy with a touch of raw emotions and laughter. This book hit it all in all aspects of entertainment. So if you are looking for a book that was endearing, light, and adorable then I highly recommend you to read this book. All I can say, get ready to fall in love with this book. Don't worry about the fall because Mike Solo will definitely catch you as you fall head over heels in love with him and his relationship with Donna.



Jennifer Bernard
View all my reviews