---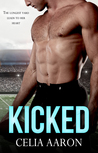 Kicked
by
Celia Aaron
My rating:
4 of 5 stars
Reviewed by: Michelle
ARC provided by author in exchange for an honest review


KICKED by Celia Aaron was a quick, sweet second chance sports romance. If you are like me and is a BIG BIG fan of football, then you are in for a treat because Ms. Aaron has given her readers a love story that weaves football, passion, and forgiveness.




Trent Carrington has it all from the looks, money, and confidence. He is Mr. Quarterback that can go pro. But one thing Trent doesn't have is the girl that he let get away. Or more precisely the girl he left brokenhearted. Two years has passed and Trent is finally making his move to win back the girl that he loves.

Cordy Baxter is the female kicker of the football team. She is on the team so she can maintain a scholarship to help ease with her tuition. Kicking is the least of Cordy's problem especially when she has to see Trent Carrington everyday. So when she tries out to be first-string kicker in order to get a full scholarship, she didn't expect Trent to help. Spending more time with Trent began to resurface old feelings she had for him. Will Trent be able to kick his way into her heart? Or will she be kicking him to the sidelines?

Kicked was definitely your fast paced sports romance. It was definitely straightforward, predictable, and sweet. This book left you feeling happy that Cordy and Trent were able to work through their issues and kicked past two years of heartbreak. So if you are looking for a sexy and cute sports romance then this book might be for you.


Celia Aaron
View all my reviews