---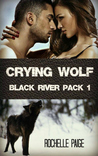 Crying Wolf
by
Rochelle Paige
My rating:
5 of 5 stars
Reviewed by:
Michelle
ARC provided by author in exchange of honest review


Once in awhile I enjoy reading a PNR book, but it is very rare that I do but OMG I absolutely love Crying Wolf by Rochelle Paige. I just read the prologue and was instantly hooked and was salivating for more when I was done with the book. Who knew a shape-shifter romance could be so hot and steamy? Toss in an alpha male hero who will have you growling in the bedroom then you got yourself one HOT PNR book!! Ms. Paige did an amazing job with Crying Wolf with a heroine that you wanted to hug and an alpha dominant hero that you would love to take a bite of.




Since Crying Wolf is a short story, I won't go into much details of the story line since this book needs to be READ!!!! All I can say is this book had a hot alpha shape-shifter who knew from the moment he laid eyes on her that she was his. No if, and or buts about it Grace Shaw belonged to Hunter Tate. It was an instant connection and bond between them. They were drawn to each other like a moth to a flame or in this case, Hunter made sure to marked his territory. And Grace was his to protect and love. So if you are looking for one sexy hot and a book that will have you howling for Hunter Tate's name then go read Crying Wolf. All I can say Rochelle Paige, hurry with Book 2 because I can't wait for Eliza and Spencer's story.


Rochelle Paige
Back to Top of Page
---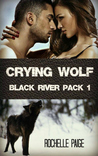 Crying Wolf
by
Rochelle Paige
My rating:
4 of 5 stars
Reviewed by:
Neilliza
*A copy given by author, in return for an honest review.*
☆☆☆☆ 4 Stars ☆☆☆☆
Do you believe in Love at First Sight?
Hunter and Grace do.

From the moment Grace laid eyes on Hunter she knew she was in love. She tried to stay away from him, because she didn't want a repeat of her past. A past she ran away from, where her ex-boyfried owned her and there was nothing she could about it. Until she had enough and ran away and never came back. For months she kept moving from place to place, until she felt safe enough and decided to make a home for herself in Black River.

As for Hunter, he fell hard even before he saw her. As a werewolf he smelled her right when she walked into the bar, even before she laid eyes on him, he knew she was it. Her smell was intoxicating. He knew right away she was the woman his grandmother was talking about… his mate. The moment she walked in the bar, she was his, even if Grace didn't know it yet.
Hunter kept her protected and did everything he could to ease her into trusting him. Until that night that Grace was spooked, he knew he couldn't keep away from her any longer. He took her home and never let her go anywhere with him or his brother. After Grace finally opened up about her past, Hunter swore to protect her and never let anyone hurt her ever again.

With Grace's ex-boyfriend Sam gets closer and closer to finding her..what will happen to Hunter and Grace?
Will Grace trust Hunter enough to protect her? Or will she run away again from her the fear of being caught by Sam?

Read this sexy short story and find out.

This was an enjoyable short read, which I devoured in one sitting. As this is my first Rochelle Paige book, I cannot wait to see what she has next. Thx for sharing your book with us. =)

View all my reviews
---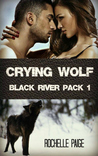 Crying Wolf by Rochelle Paige
My rating: 5 of 5 stars
Reviewed by: Kathleen
★★★★★5-HOT MATING STARS★★★★★
*COPY PROVIDED BY AUTHOR IN EXCHANGE FOR AN HONEST REVIEW*


I have not read paranormal romance in a while and I can't believe how long it's been. Why had I stopped from reading supernatural romance that would get you so excited and touch you in a very different and enchanting way, I have no idea. If you love shape-shifters, I would highly recommend this book.





Grace is running away from her abusive boyfriend who is a sheriff in her old town. All she wanted was to leave him and try to move away from all the pain he caused her. Beating her up to the point it almost killed her, was such a horrible thing to endure. When she saw the opportunity to run, she ran as far away as she can from Sam, the crazy cop. Or so she thought it would be far enough. But she was wrong.





Hunter is the Alpha of the pack and have yet to meet his mate. Once he laid eyes on Grace for the first time, he just knew that she would be a big part of his life. I loved the hot and steamy scenes. I enjoyed reading about the love they both have for each other that was unbreakable. I can't wait to read about Eliza and Spencer. Thank you for giving me a chance to read this HOT PARANORMAL ROMANCE you've created, Rochelle Paige. I just can't have enough of your writing. I'm ADDICTED!!

Back to Top of Page